If stress were non-existent in our lives, we would all be living pain-free. We'd also go about our days in a much more joyful and
playful manner, not to mention we'd also be happier, healthier, and simply enjoy life better.
Chronic and severe stress can damage your body and mind, blocking the fluid communication to and from most organs – especially in the
hypothalamic-pituitary-adrenal (HPA) axis and the limbic system, the brain's emotional center.
And if you've been a follower of our philosophy you know that your emotions are one of the big causes of back pain.
So let's remedy that, shall we?
Today, I'm going to give you my top 10 EASY ways to reduce stress from your daily life which will provide you with a happier, healthier, more pain-free life. Some of them you may have heard before… others you probably haven't.
Laugh More — Research has continually shown that on average, the more a person laughs, the less stressed they are and the longer they live. I recommend looking up clips on Youtube for things that make you laugh, reading comics, watching TV shows which make you giggle, talking to a funny friend, or anything else which helps you laugh more.
Exercise — As you exercise your body releases endorphins, what I like to call "happy chemicals," because they literally melt stress from your body like magic. And no, you don't have to grunt and groan in order to shake the stress — although you can if that's what you like to do! Now I KNOW you already know how beneficial exercise can be, but the real challenge is staying COMMITTED to exercising. That is why I strongly encourage you to try the No Excuses Workout… you will discover this 4-minute-per-day program blasts away the fat, and the stress too, and makes it EASY to stay committed!
Meditate — Meditating is one of the most effective long-term stress relievers ever discovered. By slowing your brain waves from a high beta stage down to a low alpha (or even lower if you use a meditation program like Holosync), meditation dissolves stress and reduces pain.
Breathe Deeply — I'd like you to try something for me. As you're reading this, become aware of your current stress levels. Think hard about exactly how you're feeling at this moment. Really think hard about how those emotions make you feel (i.e. are you anxious, have tight muscles, stressed, worried, etc.) and then take 10 very slow, very deep breaths and do the same thing. Feel the difference?
Simplify Your Life — Between juggling our family lives, jobs, personal activities and everything else we have going on, sometimes life gets a little crazy. Simplifying your life is much easier than it sounds, and can work wonders. It simply means removing clutter from your house, focusing on 1 task at a time instead of trying to multi-task (which is a huge productivity killer), and getting rid of anything not absolutely necessary.
Drink Green Tea — Green tea is packed with something called "theanine" which increases the brain's output of relaxation-inducing alpha waves and reduces the output of tension-making beta waves. If you're a tea drinker I'm sure you've noticed the calming effect it has on you — and now you know the science behind it!
Learn To Forgive — Throughout our lives many things happen which cause us to hold grudges against friends, family, co-workers, etc. Every single time you hold a grudge against someone, that grudge places an extra weight on your own mental tension. Just imagine how many grudge (big OR small) you've had over the past 10, 20, 30, 50+ years… and think about how much it may be weighing your emotions down. Learn to forgive and you'll find your emotional stress — and your pain — begins to slowly fade away into the background.
Write A List Of Everything You're Thankful For — Research has shown that it's literally impossible to be stressed about something and be thankful for something at the same time. I suggest setting aside 20 minutes once per week and writing down every single thing you're grateful for in your life. It works wonders.
Take A "You" Day — Every once in awhile, we all need a day for ourselves. Away from the kids, the husband, the wife, the friends, the TV, work etc. Go take a walk in the woods, or go to the movies by yourself, or go shopping… whatever it is that you love to do!
Eat/Drink Any Of These Foods And Drinks — Blueberries, low-fat or skim milk, oranges, brown rice, green vegetables, dried apricots, turkey, sweet potatoes and water. Each of these help our bodies release more happy chemicals into the brain — helping reduce stress by simply eating!
Try implementing even one of these 10 stress busters each week over the next 10 weeks and see for yourself how fast your stress will be left in the past.
Stress Causes Physical Pain, Too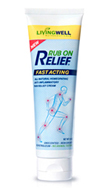 Stress increases pain because of its influence on emotions. But stress also directly creates physical sources of pain and discomfort by increasing your breathing and heart rates while creating muscle tension as your body prepares its "fight-or-flight" response to it.
That's why we included Ignatia in our new formula of Rub On Relief®. Discovered by a Jesuit missionary serving in the Philippines in the late 1600's, this homeopath calms nerves and reduces stress while the other nine natural pain remedies in it go straight to work on other sources of pain including muscle, nerve and inflammation.
Filed Under:
Stress
Written By: Updated:
November 3,2010