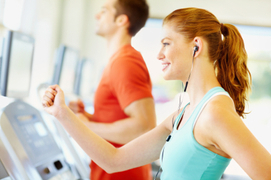 Music and exercise go together like Batman and Robin.
And now a growing number of studies, many of them under the direction of UK researcher Costas Karageorghis, have shown the benefits go well beyond just enjoying the music.  In short, it has to do with the 3-way synchronization between the motivational tempo of music, exercise, and heart rates.
Among the more intriguing studies: One in which patients exercised on a treadmill while listening to music, ranging from classic rock ballads performed by Queen to pop standards performed by Madonna to the Red Hot Chili Peppers.
Listening to the synchronized music improved the endurance of patients by up to 15 percent (and helped them derive more pleasure from exercising too!). Additionally, music helped exercisers feel more positive about their efforts, even when working out near the brink of physical exhaustion.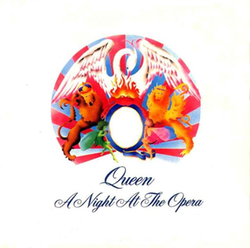 Deriving a health benefit from listening to music while exercising can be tricky and may vary depending on the tempo, however. Even the slightest change in the speed in which tunes were played — by a mere 10 percent — was enough to increase or decrease performance.
In another study, patients who synchronized their exercise efforts while listening to music used 7 percent less oxygen to do the same amount of work in comparison to having music playing in the background. This equates to a 10 percent drop in perceived effort, meaning it takes less work to get better results!
The important thing to keep in mind about these studies: The synchronization of music to physical activity is key if you want to achieve greater results, not to mention the emotions a song may elicit. For example, can you imagine listening to Bill Conti's famous theme song from the Rocky soundtrack, Gonna Fly Now, or Queen's We Are The Champions and not feel stronger, more powerful and ready to take on just about anything?
One very important safety tip to remember when you're rocking out to the music while exercising: Maintain a safe volume that won't harm your hearing. Also, if you prefer running in public spaces (parks, neighborhoods), be sure to set the volume of your MP3 player accordingly so you can be on the lookout for traffic and other hazards.
Of course, while listening to music while exercising is helpful, eating the right foods is of extreme importance when it comes to losing weight. And with that in mind…
Filed Under:
Weight Loss
Written By: Updated:
January 15,2012