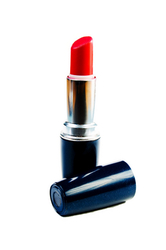 According to recent findings from the FDA, 400 popular lipstick shades contained varying amounts of poisonous lead.
The greatest offenders are the popular lipstick brands L'Oreal, Maybelline, NARS, Cover Girl and Stargazer, with at least two shades among the top 11, all exceeding 4 parts per million (ppm) of lead.
The worst of the worst — Maybelline's Color Sensational Pink Petal and L'Oreal's Colour Riche Volcanic — had at least 7 ppm.
The Campaign For Safe Cosmetics has been pushing federal agencies to establish a "safe" limit for lipsticks after a 2007 study found two-thirds of the 33 red lipsticks they tested contained lead.
Getting the Lead Out
To be clear, lead isn't added to cosmetics, but because many FDA-approved color additives used by manufacturers are mineral-based, they may contain trace amounts of lead.
Unfortunately, the FDA doesn't believe the lead levels in the lipsticks they tested are a big problem at all. In fact, "The lead levels we found are within the limits recommended by other public health authorities for lead in cosmetics," according to the FDA.
This opinion conflicts with the findings of a recent CDC advisory committee that found there was no safe level of lead for anything children might consume, not to mention preventing lead exposure for pregnant women and children is a must.
The problem: lead builds up over time in the body, thus using lead-laden lipsticks several times a day over many years can add up to "significant exposure levels," according to Dr. Mark Mitchell, co-chairman of the Environmental Health Task Force for the National Medical Association.
Two key things you can do to protect your health from needless exposure to lead and other toxic chemicals hiding out in common products you use every day:
PLEASE CLICK "SHARE" TO THE ABOVE RIGHT to let others know this is an article worth reading and passing on! And please feel free to Post a Comment on this article below…
Campaign For Safe Cosmetics/Forbes