Disturbing Facts the Drug Companies DON'T Want Us to Tell You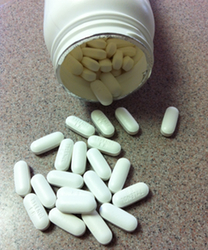 Certain habits become so common for people that they take them for granted as safe.
Smoking. Driving. Eating high trans fat foods.
As you know, though, smoking kills. Driving is the #1 cause of deadly accidents and always requires your full attention. And high trans fat foods are a leading cause of deadly disease.
Though the giant drug companies who make billions off acetaminophen LOVE that people assume its safe, truth is that it is anything but…
If you have taken acetaminophen even somewhat regularly and still feel healthy, please consider yourself lucky. Because more users of acetaminophen than the drug companies EVER want you to know have not been so fortunate … even when they've "played it safe" by following all the rules on the label!
Here's a big fact that may SHOCK you too:
Acetaminophen accounts for some 56,000 trips to the emergency room and at least hundreds of deaths yearly … and that's just in the United States!
Yes, these numbers were high enough to even make the FDA (who are often lax when it comes to their partners in crime, the mega-drug companies) take action:
The Feds Finally Get Involved
Nearly a year ago, the FDA finally announced a per tablet-cap of no more than 325 milligrams of acetaminophen in common opioid pain relievers — think Vicodin and Percocet — and mandated label changes in ALL acetaminophen products to warn consumers about the potential risk of severe liver injury.
Evidently, Johnson & Johnson, the makers of Tylenol — the most popular acetaminophen product on the planet —  got the message last summer. Possibly reacting to the verdicts already handed down by the feds, their McNeil Consumer Healthcare Division dropped the maximum daily dosages of Extra Strength Tylenol from 4,000 milligrams per day (8 pills) to 3,000 milligrams (6 pills).
(Another FACT You Need to Know: Extra Strength Tylenol is manufactured in a Puerto Rico factory implicated in many of Johnson & Johnson's 25 drug recalls over the past 27 months.)
And the news gets worse, folks…
Toxic Overload
The conclusion of a recently published British Journal of Clinical Pharmacology (BJCP) study of 663 patients who sustained liver injuries due to acetaminophen use really nailed the problem.
Nearly 25 percent of the patients sustained acetaminophen-related damage due to a staggered overdosing regimen in which they took just a little more than was safe on occasion for common medical issues (toothaches, muscular pains and headaches).
Even taking two extra pills a day could be fatal, experts say!
In comparison to patients who overdosed on acetaminophen after a single incident, patients who had taken extra dosages on occasion over time suffered far greater problems:
More vulnerable to brain, liver and breathing problems
Needed kidney dialysis
A greater risk of dying
Even worse, patients may have sustained an acetaminophen overdose, experts say — BUT NEVER KNOW IT. And, doctors may not recognize this problem either.
To make matters even worse still, a study conducted by Northwestern University found only 31 percent of the people surveyed in six focus groups knew that Tylenol contained acetaminophen, and only 41 percent ever bothered to read the ingredients on drug labels.
Too Late!
Unfortunately, even many people who learn the facts like those won't actually pay attention to them … at least until their own or a loved ones' liver, kidney, or brain is ruined, or at least the sad story of some individual in the news gets their attention.
So here's just one of many true tragic stories, this one of a young, single Mom just recently in the United Kingdom…
What did it take to make this 20-year-old woman yet another member of the heartbreaking statistics?
Simply taking extra paracetamol (the UK equivalent of acetaminophen) over the recommended safe dosage for two weeks to relieve her pain after surgery to remove non-cancerous lumps from her breast.
A harmful dose could be "just a few pills too many taken regularly over days, weeks or months," Dr. Kenneth Simpson, who conducted the recent acetaminophen BJCP study cited previously, told the BBC in relation to this latest tragedy.
Don't Let Them Brainwash You:
Take BACK Control of Your Health Now
There is a silver lining beyond the dark cloud of these facts and tragedies, however. Many people have been brainwashed into believing that acetaminophen and other common relievers are the "only choice," BUT that is complete nonsense.
You really DO have the choice to a much safer route…
First educate yourself on the key facts of the most dangerous drugs in our 5 Most Dangerous Pain Medications report … and then take action on the recommendation for a truly SAFE and MORE EFFECTIVE alternative for pain relief …
Protect Your Health By Reading The 5 Most Dangerous Pain Medications Report & Discovering the #1 Safest Pain Solution Now
Huffington Post/Healthy Living
Huffington Post/Healthy Living