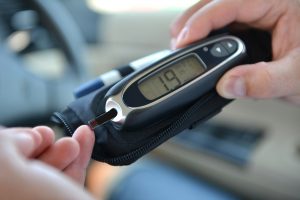 Do you have diabetes and have to constantly monitor your blood sugar or have serious blood sugar and insulin imbalances? Do you have elevated cholesterol levels, high blood pressure, and increased triglyceride levels? If so, you may enjoy this extraordinary story of one my patient's quite interesting.
One evening after a lecture I gave in New York, a man approached me about becoming a patient of mine. He was rotund with a round, ruddy face, a booming voice, and gentle manner. Everything about him was large–his appetite, his belly, and his heart–and his desire to change his ways.
At nearly 60 years old, Sam's love of all things big was waning as he felt death approaching. As we talked he spoke about years of feeding his fat by drinking a pint of heavy cream each night before bed to keep his weight up.
The end result was a 300-plus pound frame that did nothing to improve his previous health problems. Sam was diabetic and his insulin was over 200; normal is less than 20. His cholesterol levels were dangerously high and he suffered from a variety of ailments including; angina, sleep apnea, a sluggish thyroid, he was persistently fatigued, short of breath with every step, suffered nasal congestion, swollen legs, dry skin, and yeast grew all over his body.
Sounds like a mess, right?
Well that's not an uncommon belief but the truth is that for all the things wrong with same, none of them were irreversible. And that's what I told him. By following my directives I was confident Sam could lose weight, feel better and eradicate those symptoms keeping him down. He was enthusiastic, he was skeptical but most of all Sam was determined to give a shot for a better life.
Three months later and Sam had lost 30 pounds and felt more energetic. Gone was his nasal congestion and swollen legs were in much better condition. Best of all his cravings were gone as was his need to overeat.
Fourteen months later I repeated his blood tests and was shocked at his current weigh-in. Sam had lost 110 pounds without a strict starvation diet. All Sam did was change his eating habits and made healthier lifestyle decisions. The end result was that he no longer suffered from diabetes. Yep, he was CURED. By that I mean his blood sugar had dropped significantly, his LDL and HDL cholesterol had stabilized and triglycerides were normal without the help of drugs.
We can all learn some important things from Sam's case. First of all, just because you have always had a robust appetite doesn't mean you can't enjoy food without over-indulging. After all of his hard work Sam looked and felt decades younger!
When you suffer from health problems like diabetes, you can feel older than your current age, hopeless and feel disbelief that anything but inevitable health complications are possible. All you want is to live a normal life without the burden of extra weight and a dozen-pill regimen, and have the life you did before diabetes became part of your "normal".
The good news is that you can do exactly that. I know you're skeptical; most people are when a doctor tells them diabetes is reversible, but over the course of this three-part series I'm going to show you how it's possible. You can follow in Sam's steps without starving yourself and I'm going to talk more about that later in this series.
Today, I am going to talk about the term "diabesity". If you have diabetes you have it. But you don't have to have diabetes or even have symptoms to be suffering from diabesity. In fact most people who have it don't know they are suffering from a deadly condition that is absolutely reversible.
Defining "Diabesity" You may be one among millions of people who are suffering from a health problem that is now epidemic in our country. Your doctor might have diagnosed you with one of many seemingly different diseases, including:
Insulin resistance
Pre-diabetes
Metabolic syndrome
Obesity
Syndrome X
Adult onset diabetes
Type 2 diabetes
What your physician very likely didn't tell you is that ALL of the above-listed conditions are pretty much the same with varying degrees of severity. The underlying causes of ALL of these conditions are the same. And because they are all the same condition, the treatment for them is also the same.
That is why I have set aside these conventional diagnoses in place of a new name that more accurately defines the health problems you may suffer from. That term is diabesity. Diabesity is the condition of metabolic imbalance and disease that ranges all the way from mild blood sugar imbalance to full-blown diabetes.
Whether you are suffering from a little extra weight around the middle or you have been diagnosed with insulin resistance or type 2 diabetes; the fundamental biological causes of ALL of these conditions are the same.
Diabesity, in its various forms, affects over 1 billion people around the world. It is a global problem and our current approach to prevention and treatment is obviously not working because we are seeing millions more affected each year by a condition that was once extremely rare.
Diabesity is also the leading cause of the most prevalent chronic diseases of the 21st century.(ii) Those with diabesity are at an increased risk of heart disease (iii), (iv),  stroke, dementia(v), cancer(vi), high blood pressure, blindness, and kidney failure. Damage to the nervous system affects almost 70 percent of patients with diabetes and can lead to a loss of sensation in the hands and feet, slow digestion of food, carpal tunnel syndrome and sexual dysfunction.
Diabesity Treatment – Symptoms, Not Causes
The reason our current approach to treating diabesity fails is because it focuses on treating the symptoms or risk factors of the disease rather than treating underlying causes. All of our attention is on treatments that:
Lowers blood sugar (diabetes drugs and insulin)
Reduces high blood pressure (anti-hypertensive drugs)
Lowers cholesterol (statins)
Thins the blood (aspirin)
We treat these problems without asking the tough questions such as;
Why is your blood sugar too low or too high
Why is the patient's blood pressure high
Why is the blood cholesterol too high
Why is the blood too sticky and more likely to clot?
Put another way: What are the root causes of diabesity?
Answering that question has be the focus of diagnosis and treatment if we are going to resolve this global epidemic.
Many of these problems such as diabetes and high blood pressure are a result of a poor diet and inactive lifestyle. But there are also environmental toxins that, when combined with genetic susceptibilities, put us all at risk for many chronic illnesses. These are the real causes of diabesity.
The real problem is that using medication or surgery to treat symptoms simply does nothing to treat the issue.
The real solution for diabesity is a complete overhaul of your current diet and lifestyle program. I am going to teach you how you can integrate an approach that will heal from your symptoms. You will learn why conventional treatments often fail and how you can treat diabesity.
If you follow my system you will see many of your lifelong symptoms disappear in a relatively short period of time and you'll remember what life is like when you feel healthy and vibrant.
Let me know your thoughts by posting a comment below.
To your good health,
Mark Hyman, MD
drhyman.com