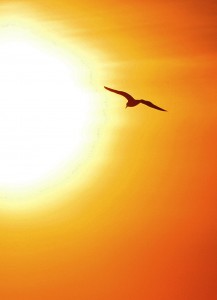 Want to take a permanent vacation… from your pain?
Right now, imagine lying back on the beach… soaking up bright rays of sun without a care in the world. You feel great… and for good reason.
Those wonderful rays of sunshine are warming you from the inside out. You feel energized yet relaxed as you absorb the soothing heat.
Aches and pains fade away like an old memory. Even dark clouds of worry and depression are chased away as the power of the sun takes over.
Wouldn't you love to enjoy this vacation right now?
Well the good news is… YOU CAN!
How the Sun HEALS Your Pain
Sunlight travels 93 million miles through cold outer space to reach our planet. Whether the sun appears bright in the sky or is shadowed by clouds, visible rays light up your side of the planet during the day. Other rays, unseen by the naked eye, accompany this visible sunlight.
You've heard of the very low wavelength ultraviolet rays like UVA, UVB, and UVC that can cause sunburn and skin cancer from overexposure.
But… it's the completely safe, invisible rays of high wavelength energy on the opposite side of the visible spectrum of sunlight you need to know about…
These are the rays that provide the deep healing heat you feel right down to your bones on a bright sunny day… the rays of solar energy called "far infrared".
Most sources of heat are ambient. This means they warm the air around you with heat that barely penetrates your skin. Or they burn your skin as you try to get warm by direct contact.
Far infrared is very different. The long wavelength of far infrared allows the energy to pass right through your skin – as much as 3 inches deep – and gently warms you from the inside out.
Aching muscles, creaking joints and hard-to-reach painful spots throughout your body get the full soothing effect of the heat. Pain that ordinary heat sources can't touch is wiped away with mere minutes of exposure to far infrared.
And that's just the start…
How to Switch ON Major Healing… Fast!
When you warm yourself with deep penetrating far infrared rays, it's like "switching on" several major healing functions that may have been lying dormant inside of you.
First of all, far infrared expands your capillaries. Stagnant blood starts moving again. Crucial oxygen and nutrients are delivered throughout your body. And built up waste and toxins are carried away for removal.
Soon your muscles and joints start to relax. Muscle tension, joint pain and stiffness fade away. Gentle stretching after exposure to far infrared begins to enable greater flexibility and range of motion.
And in addition to its unsurpassed pain-fighting power, scientific studies show far infrared can even help you:
1. FIGHT fatigue, pain and sleep problems
 After several sessions of thermal treatment using far infrared, patients at The Masuda Clinic in Japan felt more energized
2. Promote FASTER wound healing 
Researchers at Kansai Medical University used far infrared treatments to see if it would heal skin wounds faster. It did!
3. Keep your cells HEALTHY
German scientists in Munich conducted trials on over 2200 patients. They found far infrared effective for removing abnormal cell growth!
4. Even LOSE WEIGHT
That's right, as your core body temperature is raised by far infrared heat, your body burns off more calories as it works to keep your temperature equilibrium. It's kind of like exercising… without the exercise!
Now Get Far Infrared Healing – Anytime, Anywhere!
As much as we'd love to hang out on the beach soaking up the sun all year long, that's not always practical.
Unless you live in a southern state like California, Texas or Florida… or a country near the equator like Indonesia, Ecuador or Costa Rica… the sun's rays simply aren't powerful enough most of the year.
And even if you live in a warm climate, your pain won't wait for the occasional storm clouds to roll away.
That's why I'm excited to tell you how to harness the healing power of the sun – even if you're stuck indoors in the middle of a blizzard – with your personal far infrared heating pad.
When you have your own far infrared heating pad, you're only moments away from deep, soothing healing heat.
And when you have the only far infrared heating pad with the Healthy Back Institute's Seal of Approval, you'll rest easy knowing it's…
Easy to use with adjustable heat settings for perfect comfort
Flexible so you can mold it to any area of your body needing relief
Constructed with real Jade stones for consistent far infrared distribution
Free of harmful electric magnetic fields (EMF) that plague other heating pads
Built to last with guaranteed quality
Isn't it time you sent your pain on permanent vacation?
Click Here Now to Discover How to Get Your OWN
Healthy Back Institute® Approved Far Infrared Heating Pad
P.S. Don't miss our current sale on the heating pads! All sizes are discounted for a limited time only.. and all U.S. orders for large far infrared heating pads even include free shipping… Click above now!