8 Key Steps (No Pun Intended!) to Avoid Falling Down &
Resulting Serious Injuries!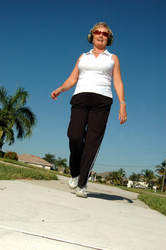 How to avoid falling? Considering today's longer life expectancies and the stampede of Baby Boomers headed toward retirement and seniordom, this is an important and evermore popular topic.
And make no mistake! Because of the serious health risks involved, learning how to avoid falling is also some of the most important knowledge you can possibly have. Consider that:
One-third of all Americans age 65 and older fall annually (but less than half will admit it to their physicians).
Falls are a leading cause of death among adults over age 65, amounting to nearly 20,000 fatalities yearly.
Traumatic brain injuries were responsible for nearly half of the deaths blamed on falls among older adults.
Nearly 600,000 seniors were hospitalized for non-fatal fall injuries and almost four times that many were treated in emergency rooms (2009 statistics).
The health tab blamed on falls is expected to climb to some $55 billion by 2020 (a conservative figure based on 2007 estimates that will likely be higher).
With those rather shocking numbers in mind, here are the key preventative measures you can take to lessen your risks of falls and live and live a long, healthier and pain-free life.
The 8 Protective Tips to Prevent Falls
1. Debunk The Myths
If you're a caregiver or relative, don't let your loved one get away with excuses like, "Falling happens to other people, not me." As you read above, the numbers don't lie.
Another important statistic to remember: nearly 70 percent of senior-related falls happen when they're alone.
2. Get Moving With Exercise
The more you move, the better you'll feel. Learning the gentle movements of tai chi will help improve their balance, flexibility and coordination. Also, a basic activity like walking improves one's endurance and ankle strength.
3. Be Careful With Your Medications
Review your regimen of medications very carefully with your doctor and pharmacist to ensure there's no conflicts, particularly if you're taking one of 5 Most Dangerous Pain Medications.
4. Take Your Vitamin D
Getting the right amount of vitamin D through a better diet and supplementation is vital for your bones, and it's a natural pain-fighter too.
5. Get Your Eyes Checked
Add an appointment with your eye doctor to your calendar of yearly medical checkups.
6. Accident-Proof Your Home
Just as you would put away breakables, move furniture or turn on lights to prevent your grandkids from falling accidently in your home, follow your own advice when it comes to your own health. Also, add grab bars to your shower and bathtub and stair railings where necessary.
7. Go Low on Shoes.
Reduce your chances of falls by wearing low-heeled, rubber-soled shoes.
8. Get The Right Amount of Sleep
Getting a good night's sleep every night is essential to keep you alert during the day to avoid falls … and for so many other health reasons too. Be sure to …
Journal of The American Geriatrics Society
Filed Under:
Seniors
Written By: Updated:
December 21,2011