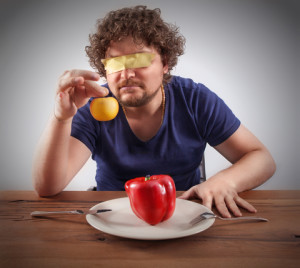 No matter where you stand on the issue of genetically modified (GM) foods – whether you believe them to be an environmental and public health disaster or you're more willing to give them a try – one thing's for certain: we should all be free to make the choice of whether or not we consume them
For the record, there are many scientifically valid reasons why GM foods are far better off avoided. Monsanto's Roundup Ready crops are designed to be resistant to their herbicide Roundup. As a result of this "advancement," Roundup is the most used herbicide in the US, and GM crops receive the lion's share.
Earlier this year, the International Agency for Research on Cancer (IARC) declared Roundup's active ingredient, glyphosate, a "probable carcinogen" (Class 2A),[i] which means eating GM foods contaminated with could potentially be also.
Glyphosate residues are known to exist widely on GM foods, yet the U.S. Department of Agriculture (USDA) does not test for such residues in your food, claiming the tests are "too expensive" to do on a regular basis.[ii]
Also for the record, cancer is just one of the concerning aspects of glyphosate. It's also been show to interfere with metabolic processes, disrupt the endocrine system, alter the balance of gut bacteria and more.
And, glyphosate is only one concern linked to GM crops. The foods are said to be "substantially equivalent" to one another, but research has shown they have significant compositional differences. One study found, for instance, "Organic soybeans showed a more healthy nutritional profile than other soybeans," while "GM-soy contained high residues of glyphosate and AMPA [glyphosate's major degradation product]."[iii]
The reason why I'm telling you this is because new legislation is underway that could essentially make it impossible for states to label a food with GM ingredients. H.R. 1599, the Safe and Accurate Food Labeling Act of 2015, or as it's commonly known the DARK (Deny Americans the Right to Know) Act, has already passed the House of Representatives and is now on its way to the Senate.
Act Now to Stop the DARK Act
Biotech companies and the food industry spent nearly $30 million in lobbying to be sure the DARK Act passed the U.S. House of Representatives, which it did in a 275-150 vote.[iv] As CNN noted, if passed into law this bill would take unprecedented steps to keep Americans in the dark about what's really in their food:[v]
"The Orwellianly-titled "Safe and Accurate Food Labeling Act," HR 1599, would bar the Food and Drug Administration from introducing mandatory labeling of Genetically Modified Organism (GMO) foods and ban states from doing the same — even if voters demand such labeling through a ballot measure.

The bill would also block many state and local efforts to protect farmers and the public from concerns including seed and pesticide drift and would forbid states from making it illegal for companies to label GMO products as "natural," as Connecticut has done.

The bill is a serious attack on transparency and presents a dubious one-size-fits-all approach to federal policy making. Most importantly, it presents a potentially serious threat to our long-term health."
A Senate version of the DARK Act may be introduced at any time, so now is the time to speak out against it. Ninety percent of Americans support mandatory labeling of GM foods[vi] – let's not let the government, at the hands of agribusiness lobbyists, take that from us.
The Organic Consumers Association (OCA) has a form you can use to contact your Senators and ask them to defend states' rights to label GM foods. Please take a moment to voice your opinions, and ask your friends and family to do so also. Your right to know what's in your food is hanging in the balance.
Finally, rest assured that all Healthy Back Institute products — from Heal-n-Soothe to Super Joint Support — are non-GMO, so you can feel confident in choosing these products to support and protect your health.
[i] The Lancet Oncology March 20, 2015
[ii] Reuters December 19, 2014
[iii] Food Chemistry June 15, 2014: 153; 207-215
[iv] Organic Consumers Association, States' Rights to Label GMOs in Danger!