One of the world's most ubiquitous spices has been in use since early Biblical times, mentioned throughout the Bible for its use in anointing oils, perfumes and more. However, the spice labeled cinnamon in your local grocery store probably isn't cinnamon at all.
Most cinnamon sold in stores is actually cassia, originating from southern China and now grown across eastern and southern Asia. You can recognize it by its dark brown-red color and strong, peppery flavor and aroma as most of its natural oil is cinnamaldehyde. If you purchase it in the form of "cinnamon sticks" you'll notice it has a rougher  texture and curls up from both sides toward the center like a scroll.
True cinnamon, native to Sri Lanka and southern India, has a tan-brown color with a delicate, mildly sweet flavor due to only half or so of its natural oils being comprised of cinnamaldehyde. Its sweeter flavor profile makes it more suitable for desserts. Real cinnamon sticks have a smooth texture and curls in from one side only, like a rolled newspaper.
Does It Matter Which Cinnamon You Use?
Cassia appears to be the most-studied "cinnamon" of the two for its health benefits and has been in medicinal use for thousands of years. But there's a catch.
First, the major health benefits of cinnamon (or cassia):
Fights inflammation and oxidation
Aids blood sugar control
Improves cholesterol levels (lowers LDL and raises HDL)
Normalizes neurofunction and fights neurodegeneration
As most of the health benefits are attributed to cinnamaldehyde, you'd think cassia to be the clear choice. However, cassia also includes high levels of a compound called coumarin while only trace amounts are found in true, or Ceylon cinnamon.
While there's little risk in the occasional consumption of cassia, eating too much – or taking it as a "cinnamon" supplement – may cause low blood sugar, liver toxicity and other risks due to its high coumarin content.
While banned as a food additive in the United States due to its potentially adverse side effects, coumarin isn't regulated when found naturally in your food. Yet the cassia sold to you every day can be legally called "cinnamon." While overall risk for consuming cassia remains low for most, if you eat a lot of cinnamon or take it as a supplement, you would be best buying the real thing, labeled Ceylon cinnamon.
Honey & Cinnamon Roasted Fall Veggies
Now that you have the low-down on cinnamon, make this roasted veggie dish as a side on your Thanksgiving table or anytime you want a delicious and healthy autumn themed pick-me-up!
Ingredients
4 medium sweet potatoes (approx. 4 cups) cut into cubes
4 medium apples (approx. 2 cups) cut into cubes
16 oz fresh, raw brussels sprouts (approx. 20 pieces)
1 cup fresh, raw cranberries
4 Tbsp coconut oil* melted & divided
¼ cup honey
2 tsp sea salt
1 Tbsp ground cinnamon
1 cup pecans (optional)
Directions
Preheat oven to 425 degrees F.
Toss cubed sweet potatoes, brussels sprouts and 2 Tbsp of melted coconut oil in a large bowl until evenly combined.
Bake in the preheated oven for 20 min stirring halfway through
While the potatoes and sprouts are baking, toss the apples, cranberries, pecans and additional 2 Tbsp of melted coconut oil in a bowl.
Add the honey and cinnamon to the apples and stir until combined
When the potatoes and brussels sprouts have baked for 20 min remove them from oven and add the apples, cranberries & pecans to the same pan. Stir carefully until combined.
Sprinkle sea salt over entire pan.
Return to the oven and bake for an additional 20 min. Stir halfway through.
Veggies will be browned and caramelized when done.
Remove from oven and serve immediately.
Note: Can substitute virgin olive oil for coconut oil.
Get More Insightful Articles & Tasty Recipes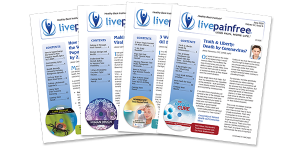 This article and recipe first appeared in the November 2021 issue of Live Pain Free®,  the private monthly publication published by Jesse Cannone for more than a decade featuring audio interviews and articles from world-leading doctors, natural health practitioners and others who share cutting-edge advice for naturally living a pain free, more vibrant life as well as helpful tips and recipes like these.
Best of all, when you join our Live Pain Free® family, you get instant access to more than 100 audio interviews, back issues, and numerous special reports and other bonuses in our online members area. Isn't it time you enjoyed life again for a change?
Get Your First Issue of Live Pain Free for Just $1
(There's no risk! Either you love it or can cancel anytime.)
References
Leech J. 10 Evidence-Based Health Benefits of Cinnamon. Healthline. 2018 Jul 5.
Blahová J, Svobodová Z. Assessment of Coumarin Levels in Ground Cinnamon Available in the Czech Retail Market. 2012;2012:263851.
Conget I, Giménez M. Glucose control and cardiovascular disease: is it important? No. Diabetes Care. 2009 Nov;32 Suppl 2(Suppl 2):S334-6.
Morrison L, Welsby PD. Side-effects of coumarin. Postgraduate Medical Journal. 1995 Nov;71(841):701.