And an AWESOME Apple Cinnamon Water Recipe!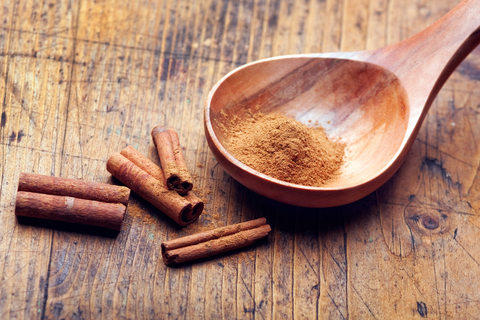 Autumn is officially here, and with the cooling temperatures you may find yourself sprinkling the warming spice cinnamon in your coffee, on your toast, or baked into a batch of muffins.
But there's good reason to make cinnamon a year-round treat — and to use it in far more abundance than just a dash or two here and there.
The Healing Bark Valued for Centuries: Top Health Benefits of Cinnamon
For centuries, cultures from China, India and Southeast Asia have valued cinnamon as a traditional medicine. Ancient societies commonly used cinnamon for the following conditions:[i]
Bronchitis
Gastrointestinal problems
Loss of appetite
Control of diabetes
Modern-day research continues to find even more valuable health benefits of cinnamon, including:
1. Blood Sugar Support
Research has shown that cinnamon may have a moderate effect in improving glycemic status, including levels of fasting blood glucose, among people with type 2 diabetes.[ii] This effect was seen after taking three grams of cinnamon daily for eight weeks.
2. Kidney-Protective Properties
A recent animal study suggests that a daily dose of cinnamon protects the kidneys from damage from gentamicin, an antibiotic known to cause kidney problems.[iii] Cinnamon oil has also been found to be beneficial for diabetic nephropathy (kidney disease).[iv]
3. Improved Diabetes Control
In addition to helping to regulate blood sugar, intake of 2 grams of cinnamon for 12 weeks has been found to improve blood pressure and lipid profiles in people with poorly controlled type 2 diabetes.[v]
4. Antimicrobial Properties
Cinnamon is an antimicrobial food that's been found to stop the growth of bacteria, fungi and Candida yeast. Cinnamon extracts have even been found to kill some drug-resistant yeasts.[vi]
5. Boost Brain Function
The scent of cinnamon has been found to enhance cognitive processing, improving study participants' scores on working memory, virtual recognition memory, attentional processes and visual-motor speed.[vii] Cinnamon beat out peppermint and jasmine scents for its brain-boosting effects.
6. Anti-Inflammatory and Anti-Clotting Activity
The cinnamaldehyde in cinnamon helps prevent blood platelets from clumping too much, as well as has anti-inflammatory properties that may help lower chronic inflammation.[viii]
Delicious Apple Cinnamon Water
If you've never tried apple cinnamon water, you've got to try this recipe. Said to be beneficial for everything from metabolism to detoxification and losing extra water weight, apple cinnamon water is also delicious, not to mention easy to make.
Apple Cinnamon Water Recipe[ix]
Ingredients:
1 apple, sliced
1 cinnamon stick
5-7 slices of fresh ginger root (optional)
Method:
Fill a 2-quart pitcher with water
Add the apple slices
Add the cinnamon stick
Add the ginger
Allow to 'steep' overnight, then drink
You can refill with water 3-4 times before replacing the ingredients
12 More of Nature's Top Secret Weapons
Cinnamon is known as the 'healing bark' for a reason, but it's only one of the infinite substances in nature that have a positive influence on human health.
If you've got pain, in particular, there are 12 natural top pain relievers you should know about (and learn how to harness their unsurpassed power to become pain-free today).