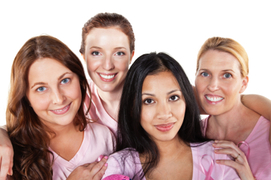 Some 81,000 women will be diagnosed with some form of gynecologic cancer — vulvar, vaginal, cervical, uterine (endometrial) or ovarian — accounting for 10 percent of all new cases of cancer every year.
Slightly more than a third of that number will die from gynecologic cancer over the course of a year too, according to the latest CDC statistics.
The good news: More women are surviving gynecologic cancer than ever before, encompassing 20 percent of all females diagnosed with cancer.
Unfortunately, even more women could survive gynecologic cancer if they hadn't misread the symptoms, mistaking them more benign, less serious conditions, according to Dr. Therese Bevers, medical director for the M.D. Anderson Cancer Prevention Center.
Because prevention is the best medicine, especially when it comes to cancer, what follows are 10 signs of gynecologic cancer no woman should ignore. (FYI, the word persistent comes up often in these suggestions.)
Taking frequent bathroom breaks, feeling full or experiencing persistent bladder pressure.
Too much fatigue that doesn't go away with a little rest.
Persistent indigestion or nausea.
Feeling bloated after drinking or eating, particularly during menstrual cycles.
Unusual vaginal bleeding (particularly for menopausal women).
An unplanned loss of 10 pounds or more without making changes in exercise or eating habits.
A bloody, dark vaginal discharge can be misread as an infection.
Persistent discomfort or pain in the abdominal region.
A swollen leg in addition to other symptoms (discharge, pain).
Feeling full or a persistent loss of appetite.
If you want to learn how to STOP cancer and other diseases — and put the brakes on premature aging while you are at it — DO NOT MISS this interesting and powerful special presentation below on unique and highly effective approaches you likely have not heard of before…