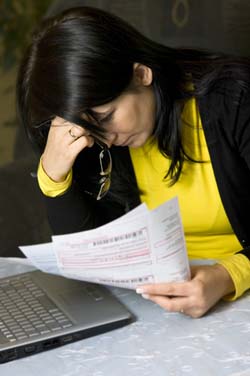 Including One Way They DO NOT Want You to Know…
Fix bad credit and build a good credit score. Fix bad credit and build a good credit score. Sounds like a broken record on daytime talk shows and late night infomercials alike.
The fact is, in today's world of economic instability, having a good credit score has never been more important – unless you prefer to pay cash for everything including your home.
Maybe you're stressed over money problems or losing sleep over your own debt and bad credit. If so, you should know that high levels of debt-related stress can damage more than your credit score… it can pose a serious threat to your health.
You're more likely to experience health problems, including tension headaches, muscles spasms, back pain, anxiety, depression, ulcers, and heart problems when struggling with money related issues.
But beware! Fraudulent credit repair companies will promise to fix bad credit and raise your credit score fast.
In this case, the old adage fits: If it sounds too good to be true, it probably is.
However, there really are some things you can do – legally – to fix bad credit, reduce your debt, and finally build good credit.
Just remember, real credit building does take time. So get started today by checking the ten credit fixing ways below off your list as soon as possible. Before you know it, your finances will be back on track, you'll have less stress, and enjoy the benefits a great credit score brings, too.
#10: Pay Your Bills on Time
Consistently pay your bills on time and you will raise your credit score. Set up payment reminders to help prevent you from submitting late payments. This doesn't just apply to credit cards and loans – even things like your gas, electricity, and telephone bills are forms of credit. Paying bills late can damage your credit. Paying bills on time not only builds good credit, it saves money on late fees.
#9: Cut Down on Credit Card Usage
Bring your maxed out credit cards below the credit limit. While using credit cards responsibly can build credit, keeping them maxed out will hurt your credit score. Some reputable credit score experts say your credit score responds best to credit card balances that are less than 30% of the credit limit; below 10% is ideal.
#8: Bring Past Due Accounts Current
Contact your creditor to discuss how to bring your accounts current. Your creditor may be willing to waive some of the late penalties or spread the past due balance over several payments. Some creditors will even re-age your account to show your payments as current rather than delinquent. Check your credit report to ensure your timely payments are being reported once you are current again.
#7: Pay Charged-off Accounts
Pay charge-off accounts. A charge-off is one of the worst account statuses. These can occur once your payment is 180 days past due. Sometimes your creditor may agree to accept a settlement and cancel the rest of the debt. The charge-off or settlement status will be reported for seven years.
#6: Work on Collection Accounts
Pay collection accounts in full or use your negotiation skills to work out a settlement with the collection agency. Accounts are sent to a collection agency after they've been charged-off or fallen behind several months. The collection action will also stay on your credit report for seven years based on the original delinquency.
#5: Pay Down Loan Balances
Tackle those loan balances. Your loan balances affect your credit score in a way similar to your credit card balances. The credit score calculation compares your current loan balance to the original loan amount. If your loan balances are close to the original amount borrowed, it will hurt your credit score.
#4: Build New Credit
Reestablish your credit by opening up a new account. Limit applications to one or two. Too many of them over a continued period of time will hurt your credit score and your ability to get approved. If you are denied for a major credit card, consider applying for a retail store credit card or a secured credit card, which requires a security deposit to secure your credit limit, to help you establish good credit again.
#3: Decrease Your Expenses
Cut back on expenses and prioritize where you spend your money. Making the decision to get out of debt is great, but making it happen takes a plan. Here are 10 quick and easy ways to decrease your expenses fast:
Carpool
Get a Roommate
Quit Smoking
Cancel Premium Cable
Cook at Home Instead of Eating Out
Lower Your Utility Bills (adjust thermostat, cheaper cell phone plan)
Buy Clothing on Sale
Take Your Lunch to Work
Grocery Shop with Coupons
Enjoy Game Night at Home Instead of a Night On the Town
#2: Increase Your Income
Figure out ways to increase your immediate income. Have a garage sale, tweak your tax with holdings, optimize your job benefits, or collect aluminum cans.
If you have a hobby that you enjoy, you could try turning it into cash. A talent or skill that you've been using simply as a hobby, could help you earn the needed extra money to pay down your debt.
If you are good at playing the piano, maybe you could tutor others. Perhaps you're good at arts and crafts. Selling jewelry or leather accessories at your local flea market or craft fair could be a good source of extra income too, maybe even a new career.
#1: Become Wealthy… By NOT Believing the Rules THEY Have Rigged to Make You Lose!!!
If you really want to have enough money to NEVER worry about it (or your credit report) again, please do yourself a HUGE favor right now and…
You see, every morning, while millions of people go off to work, a select group of insiders are busy generating real income in a very different way.
They punch no time clock, and they don't ask permission to take a vacation. Instead, they live and work by a very different set of rules. Rules of their own making.
Members of this group are scattered in cities and towns all over the country and world. But hardly anyone knows they're there.
One of your neighbors could very well be a member without you even knowing it. From the outside, these people have no visible form of income or employment.
And yet, many of them are able to generate income well beyond what most people think is possible.
It looks like a mystery. But that's only because so few people know about their world. This world is something you might call, "the underground economy."
Today, I URGE you to discover how this "underground" economy works and what it takes to be admitted…
Filed Under:
Finances
Written By: Updated:
July 4,2012