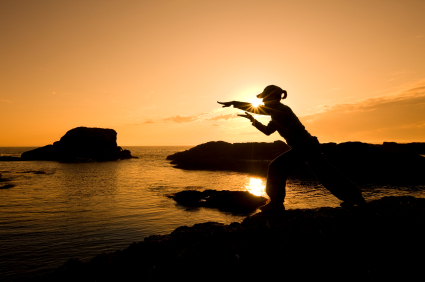 When it comes to getting fit, everyone has an opinion about how to do it best. But as you'll soon learn when you enter the world of fitness, there is no set right or wrong way to exercise, and what works for you may be quite different from what works for others.
Adding to the confusion, everyone has their own fitness goals. Yours might be to lose weight while your neighbor wants to build muscle. Someone else might be trying to overcome an injury or work on balance and functionality to be able to carry out daily activities. Still others may be trying to get in shape to improve their reproductive health, protect their bones or train for a marathon. The possibilities are, literally, endless, and so, too, are the methods of achieving them.
With that in mind, there are some fitness myths that seem to prevail even though, generally, they are better off avoided. There will, of course, be exceptions, but usually steering clear of these common fitness myths will help you to reach your fitness goals faster.
(If you have BACK PAIN, be sure to listen to our FREE audio learning seminar, Walking with Back Pain <– after reading below click here to listen!)
7 Fitness Myths to Avoid
7. Myth: You're Too Old to Exercise
You've probably heard of Jack LaLanne, the respected fitness guru who exercised into his 90s. But have you heard of Sy Perlis? He broke a world weightlifting record … at the age of 91. Then there's Lew Hollander. He completed the Ford Ironman World Championship at the age of 80 (in case you're wondering, that means he swam 2.4 miles, rode a bike 112 miles and then ran a 26.2-mile marathon). And he was the second 80-year-old to do so.[i]
Then there's Tao Porchon-Lynch, who teaches yoga classes and is a competitive ballroom dancer. Did I mention that she's 95?
Now, do you still think you're too old to get your heart rate up and break a sweat for a good 30-45 minutes, several times a week? Enough said.
6. Myth: If You Have Joint Pain, You Can't Work Out
Avoiding exercise if you have joint pain will ultimately make your pain worse and weaken your body (your muscles, your lungs, your heart — all will be negatively impacted by a lack of regular physical activity). Plus, lack of exercise may increase your risk of weight gain, and excess weight will also increase joint deterioration and pain.
So, if you have joint pain exercise is a must — but there are some important considerations you should know.
5. Myth: The Longer You Exercise, the More Beneficial It Will Be
The key element in how much you get out of your workout may not be duration but rather intensity. And as you increase intensity, you can decrease duration. This means it's possible to get more benefit out of a shorter workout than a longer one, provided you work out hard enough.
In fact, people who exercised for 30 minutes daily for 13 weeks lost more weight than those who exercised for an hour daily, according to one study.[ii] Because the intensity of the exercise is so vigorous, even if for a very short period, it allows you to burn more calories than you would by exercising moderately for a longer period.
4. Myth: You Should Have Zero Pain After a Workout
Minor aches and pains in your muscles 12 to 24 hours after a workout is completely normal. It's called delayed-onset muscle soreness and it's a sign that you've been beneficially challenging your muscles.
The good thing about such muscle soreness is that as you recover, your body will be better able to handle the positive stress next time. So, ultimately, it's a sign that you're growing stronger and more fit. That said, not all pain after a workout is normal (find out what's not normal pain here).
3. Myth: Strength Training is for Body Builders
If you're a regular on the treadmill but shun all forms of weight lifting, it's time to get your head around the fact that everyone should include strength training in their fitness program. You'll build your muscles, yes, but you'll also strengthen your bones, reduce falls, improve balance, lose weight and lower your risk of chronic disease.
Using heavier dumbbells when you strength train can even help you to burn about 25 percent more calories, even if you end up lifting for fewer repetitions.[iii]
2. Myth: Exercise is Too Expensive
You don't need a gym membership or expensive personal trainer to get fit! You don't even need 'equipment' at all, as often your own bodyweight can serve as your method of resistance. Have you tried push-ups? These are one of the best core workouts around. Or how about squats? They help burn fat and promote muscle growth in your entire body.
Nowadays you can find countless fitness apps that cost just a couple of dollars (and some are even free). So if you have a smartphone or tablet, you can get workout videos right in your living room.
1. Myth: There's No Time to Exercise
This is the biggest excuse people use when they say they 'can't' exercise, but the truth is virtually everyone has time to exercise. The key is scheduling it into your day to make it a priority, not something you can overlook or bump over into the next day.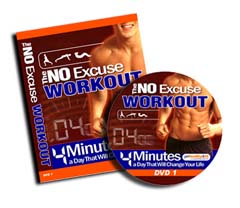 If you have 20-30 minutes several times week, you can fit in a workout regime that can give you body-wide benefits. Still think you're too busy? Then how about setting aside four minutes?
That's right … four minutes.
Say hello to The NO Excuse Workout. There's no excuse not to do it, because every workout is exactly 4 minutes long, broken down into 8 specific sets. Each set lasts for 30 seconds – 20 seconds of intense exercise, and 10 seconds of rest. Remember the benefits of building your exercise intensity, as described above? This workout puts it into action, allowing you to get fit in just minutes' time. Yes, it's intense. But it's only four minutes, so you can do it (even if you're "too busy").
---
Filed Under:
Fitness
Written By: Updated:
January 14,2014