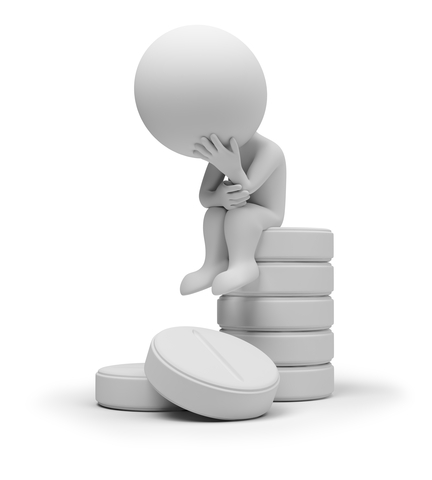 Earlier this year the U.S. Food and Drug Administration (FDA) warned against taking acetaminophen (Tylenol) in doses over 325 milligrams (mg) due to the risks of potentially fatal liver damage. It seems they're slowly starting to get it, because now the FDA has again reversed another long-held position on a popular painkiller. They've made an announcement that people without a history of heart problems should not take aspirin daily.
An estimated 40 million Americans take aspirin every day, many of them in the belief that it will lower their risk of having a heart attack.[i] However, if you've never had a heart attack and have no history of heart problems, taking aspirin can cause more harm than good. According to the FDA:
" … after carefully examining scientific data from major studies, FDA has concluded that the data do not support the use of aspirin as a preventive medication by people who have not had a heart attack, stroke or cardiovascular problems, a use that is called "primary prevention." In such people, the benefit has not been established but risks–such as dangerous bleeding into the brain or stomach–are still present."
In another sign that the FDA may finally be getting proactive about protecting public health, they also denied Bayer's request to add a health claim to its label stating that aspirin may help in the prevention of heart attacks in people without a history of heart disease. This is very good news, as the last thing we need is a misleading label prompting healthy people to take this potentially fatal drug …
Did You Know Aspirin Can Cause Joint Damage and Other Serious Side Effects?
If you're not taking aspirin to prevent heart disease, chances are you're taking it for pain relief, and perhaps for joint pain in particular. Few people are aware, however, that aspirin (which is a form of non-steroidal anti-inflammatory drug, or NSAID) may cause the cartilage in your joints to break down more quickly.[ii]
Aspirin carries other significant risks as well, the most well known of which is serious gastrointestinal bleeding. The impact appears to be dose-dependent, so if you're taking full-dose aspirin for pain relief (as opposed to low-dose aspirin that's sometimes used for heart attack protection), your risk of serious GI bleeding may increase. That being said, even low-dose use of aspirin has been found to increase your risk of major GI bleeding.[iii]
Aspirin's side effects are so severe that some researchers have recommended it be changed to prescription-only status. Other risks include:
Kidney damage
Stroke
Cataracts
Hearing loss
Chronic overdose when taking for a long period of time
Aspirin is One of the Five Most Dangerous Medications
Did you know that pain medications and adverse drug reactions are the fourth leading cause of death in the United States? Only heart disease, cancer and strokes kill more people. If you're relying on these popular medications to relieve your pain, you could pay the price with your life!
There's a reason why the FDA is now warning people not to take aspirin daily, and that's because it is simply too dangerous. But aspirin is only one dangerous drug on the market (that many people mistakenly believe is absolutely safe).
There are many others, so please, if you're taking mediation for pain relief, be sure it's not in the form of one of these 5 Most Dangerous Medications … your life could depend on it.
---
Filed Under:
Medications
Written By: Updated:
May 9,2014