Why Far Infrared Heat Stops Pain &
Promotes Healing Far More Than Conventional Heat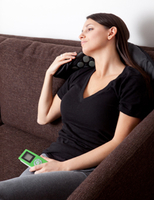 You have likely used a conventional heating pad to try to ease your back pain, neck pain, or pain in other parts of your body … only to realize it provides temporary relief at best, and sometimes not even any relief at all.
If so, it's time to learn why a far infrared heating pad provides a world of difference, both in terms of the levels of instant pain relief AND healing of the underlying issues causing pain!
Conventional heating pads are literally quite shallow products —  their heat penetrates no more than 2-3 millimeters into your skin, which is why you feel only "surfacy" pain relief at best.
But it gets WORSE: one thing that does penetrate far beyond the top layers of skin when using a conventional heating pad are electromagnetic fields (EMFs), which have been shown to pose serious dangers to your health including lymphomas and cancers of the nervous system, according to the EPA.
Deep, Penetrating Heat
By comparison, a far infrared heating pad generates penetrating heat up to 3 inches deep within your muscular tissues and ligaments for longer lasting relief — as much as six hours worth — without emitting EMFs.
And what makes the far infrared heating pad so effective and healthy for you is HOW the heat is produced and delivered for maximum transfer via polished jade stones that transform light energy into heat energy.
Additionally, the thermal effect that occurs within the layers of tissues and muscles serves another very important and healthy purpose: Triggering the dilation of capillaries that improve the circulation of oxygen-rich blood to injured or painful areas of your body to promote real healing!

5 Other Key Benefits … and How to FEEL the Difference Yourself
Among many other benefits, far infrared:
> Improves your circulation
> Induces restful sleep
> Clears up skin problems
> Increases the flow of oxygen to your brain
> Relieves muscle cramps
And much more! So those are the essentials on far infrared, BUT feeling is believing, so …