There are nearly 12 million cancer survivors in the United States, each with their own story of courage and triumph. Most of these people are moms, dads, siblings, aunts, uncles, neighbors and friends…people just like you and I. Some of these survivors just happen to also be famous, which makes their stories no more important, but inspirational nonetheless…
10 Famous Cancer Survivors
10. Fran Drescher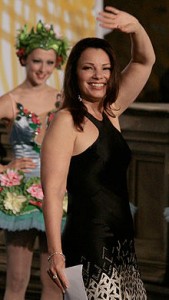 The nasal-voiced, sassy actress, most well known for her role in the TV sitcom The Nanny, was diagnosed with uterine cancer after being misdiagnosed and mistreated for a peri-menopausal condition she didn't have for two years. She wrote in the Huffington Post:
"I got famous, I got cancer, and I lived to talk about it. It took me two years and eight doctors to get a proper diagnosis. You've heard of a second opinion? Try seven "second" opinions. Honey, I got in the stirrups more times than Roy Rogers! After two years of misdiagnosis and mistreatment, I discovered that I had uterine cancer. Fortunately, it is a relatively slow-growing cancer, so it was still in stage one. But I had to get a radical hysterectomy, which is not an easy thing to endure."
An estimated 47,000 U.S. women will be diagnosed with uterine cancer in 2012, and most will be over 55 at the time. When detected in the early stages, before it has spread beyond the uterus, the 5-year survival rate is 95%, but this drops to 23% once it spreads to other organs.
After her struggles — during which Drescher notes, "I felt betrayed by not only by my own body, but the medical community — she wrote a book, Cancer Schmancer, and started a movement in the same name. Its mission?[i]
"Did you know when cancer is found early, 90% SURVIVE? Every woman, regardless of age, race or socioeconomic background deserves to have the opportunity of survival.

By empowering ourselves and the women we love to become medical consumers; to listen to our bodies, ask the right questions of our doctors and seek second opinions, we can prevent cancer and, if we still end up with it, detect cancer in its earliest stages."
9. Gene Wilder
Loved for his roles in Willy Wonka and the Chocolate Factory, Blazing Saddles and Lady in Red, just to name a few, actor/comedian Gene Wilder was diagnosed with a unique form of non-Hodgkin lymphoma (NHL) in 1999.
NHL is a type of cancer that starts in the immune system. Usually it's first detected in a lymph node, which is part of the lymphatic system (and also part of the immune system). It's estimated that more than 70,000 Americans will be diagnosed with NHL in 2012,[ii] which has a 5-year relative survival rate of 63% and a 10-year relative survival rate of 51%.
After Wilder was diagnosed, he underwent intense chemotherapy and went into remission. To prevent the disease from recurring, he then underwent even more intense chemo and radiation, along with a stem cell transplant. In a 2002 interview with Larry King, he revealed how he felt when he learned he had cancer:[iii]
" … it's very hard to accept. When I found that I had it, I didn't — I wasn't in denial. I said, well, I didn't know how it happened. And I still don't know how it happened. Non- Hodgkin's lymphoma. But I said, what do we do about it? And I was — I have a healthy heart, healthy lungs, healthy kidneys. And I wasn't a chubby hubby. I was in very good shape. And I said, let's do it. Let's get on with it. And it's turned out, it worked.

… I'm in complete remission. I'm alive and well."
8. Christina Applegate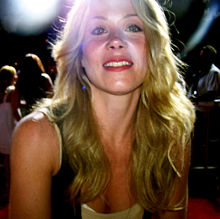 The Married … With Children star, who has also starred in numerous Broadway theatre productions, television comedies and several films, was diagnosed with breast cancer in 2008 following an MRI. Her mother also battled breast cancer, and after testing positive for the BRCA1 gene, which is linked to breast and ovarian cancers, she opted for a double mastectomy, followed by reconstructive surgery.
Breast cancer is the most common cancer in women (other than skin cancer); about one in eight women will be diagnosed with invasive breast cancer during her lifetime. A woman's risk rises dramatically if she has a first-degree relative (mother, sister, daughter) who also has breast cancer, and the risk is even higher in those with a mutation of the BRCA 1 and 2 genes. Women with these mutations have up to an 80 percent risk of developing breast cancer, and are more likely to be diagnosed at a younger age.[iv]
Applegate is now 100% cancer-free, and joked in an interview with ABC News' "Good Morning America":[v]
"I'm going to have cute boobs 'til I'm 90, so there's that. I'll have the best boobs in the nursing home. I'll be the envy of all the ladies around the bridge table."
There were more than 2.6 million breast cancer survivors in the United States as of 2011.
7. Shirley Temple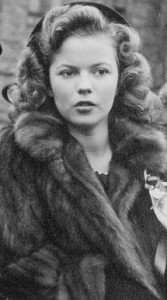 The beloved child star was diagnosed with breast cancer in 1972, at the age of 44. She underwent a modified radical mastectomy and has been cancer-free since. She was the first celebrity to talk publically about her diagnosis, and is widely credited with helping to create awareness about the condition.
6. Lance Armstrong
Professional cyclist Lance Armstrong, who has numerous Tour de France victories under his belt, has another victory he is even more proud of — his victory over cancer. In 1996, he was diagnosed with advanced testicular cancer, after ignoring symptoms for months. He told NIH Medline Plus:[vi]
" … pain comes with professional cycling, so it was easy to dismiss the soreness in my groin, headaches and difficulty breathing. I reluctantly went to the doctor after my testicle had swollen to three times its normal size … By the time I was diagnosed, the cancer had already spread to my lungs and brain, so it is fair to say I was in bad shape."
It's estimated that nearly 8,600 men will be diagnosed with testicular cancer in 2012, and a man has about a 1 in 270 chance of being diagnosed during his lifetime. Fortunately, testicular cancer is highly curable, so the risk of dying is low. Only about 1 in 5,000 will die from the disease.[vii]
Armstrong's prognosis was much worse, however, as the cancer had spread to other organs. But after undergoing multiple rounds of chemotherapy and two surgeries, one of which was to remove cancerous lesions from his brain, Armstrong not only beat the cancer but returned to professional cycling as one of the top cyclists in the world.
"I can now say that my life is better because of my cancer experience," he said. "Though I wouldn't wish it for anyone, I believe I appreciate my life in a completely new and better way because I faced cancer and was lucky enough to survive."[viii]
5. John McCain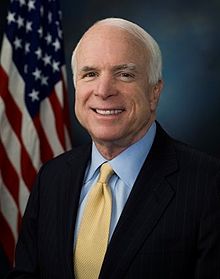 The Arizona Senator and 2008 Republican presidential nominee, John McCain is no stranger to battle. During his 22-year career as a naval aviator with the U.S. Navy, he faced numerous near-death experiences, and even was taken as a prisoner of war. In 2000, he faced yet another battle when he was diagnosed with stage 2A melanoma, an invasive form of skin cancer that has a 34 percent mortality rate within 10 years.
McCain had surgery to remove the cancerous area from his face, and also had lymph nodes removed as a precautionary measure. McCain reportedly had at least four melanomas over the years, but now declares himself cancer-free.
Melanoma is the most dangerous, and most deadly, type of skin cancer in the United States, but when diagnosed early has a 98% five-year survival rate. An estimated 76,250 cases will be diagnosed in 2012, and about 1 in 50 men and women will be diagnosed with melanoma during their lifetime.[ix]
4. Olivia Newton-John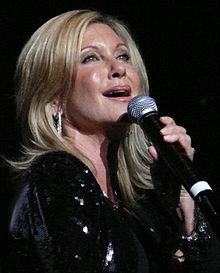 Born in England, Olivia Newton-John has long made her home in the U.S. and is still adored by many Americans. Most famous for her beloved role in Grease, Newton-John discovered a lump in her breast in 1992. A mammogram, ultrasound and a biopsy all ruled that the lump was not malignant, but she says her instincts knew better. She underwent a lumpectomy, which confirmed her suspicions, cancer.
She then moved forward with treatment — a partial mastectomy, breast reconstruction and a year of chemotherapy — an ordeal she describes as "very traumatic, I needed counseling afterwards." As part of her recovery, Newton-John also embraced alternative medicine, saying:[x]
"I used homeopathy, acupuncture, yoga and meditation in conjunction with my chemotherapy to help me get stronger again after the cancer."
3. Kathy Bates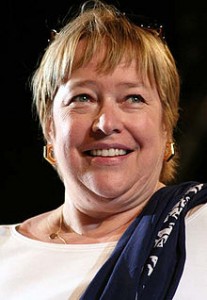 Academy-award winning actress Kathy Bates, most known for her role in Misery, was diagnosed with ovarian cancer nine years ago, and quietly underwent treatment, including chemotherapy, away from the public eye.
It is estimated that 22,280 women will be diagnosed with ovarian cancer in 2012, and 1 in 72 women will be diagnosed during their lifetime. Women over 55 are at the highest risk, particularly those who have never been pregnant, those who have a family history of cancer, or those who used estrogen for more than 10 years as part of menopausal hormone therapy.
Today, in complete remission and talking openly about her battle, Bates says:[xi]
"The whole experience was the best thing that ever happened to me because it focused me on what was important to me, and I wanted to live, and I wanted to enjoy what life was left to me."
2. Melissa Etheridge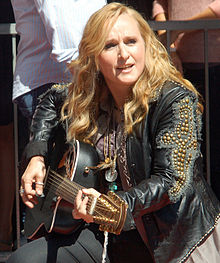 Singer/songwriter Melissa Etheridge found a lump in her breast at the age of 43, which turned out to be cancer. She went through surgery to remove the lump and lymph nodes, along with intense chemotherapy she described as "the closest to death I have ever been."
She is perhaps most famous for performing at the Grammy Awards, bald and shortly after stopping chemotherapy, where she sang Janis Joplins' "Piece of my Heart." She told Dateline:[xii]
"It was very special that I had been presented with a day, that I could come back into this entertainment world, and show everyone that you are back and okay, and thought, okay. I'm going to do this. And I'm not gonna be afraid of the truth. The truth is, yes I had cancer. Yes, I got it out of me.  Yes, I went through chemotherapy. Yes, I'm bald."
Later, 100% cancer-free, she described cancer as a "gift":
"I have never known such love, and good energy that is coming to me every day. Every moment … A wonderful gift. I've changed my lifestyle. I have taken what I consider poisonous thing, out of my life. Out of my food, out of my work, out of my social circle, out of everything. Because I want a clean, cancer-free life. And I believe I can have that."
1. Suzanne Somers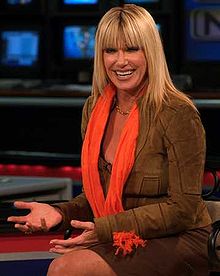 The Three's Company star turned author was diagnosed with breast cancer in 2001, and had a lumpectomy followed by radiation therapy. Rather than undergo chemotherapy, Somers opted for alternative treatments, such as those offered by Dr. Stanislaw Burzynski and Dr. Nicholas Gonzalez, and has written several books on the topic, including Knockout: Interviews with Doctors Who are Curing Cancer and How to Prevent Getting It, which features interview with doctors who offer alternatives to chemo for cancer treatment.
Today, more than 10 years after her diagnosis, the 60-something Somers is cancer-free and in spectacular shape. She has recently finished writing her 23rd book, and has become a spokesperson for alternative, natural cancer treatments and healthy aging. In an interview with Dr. Drew, she explained how she altered her lifestyle to keep her cancer-protective genetic switches turned off:[xiii]
"It [Cancer] forced me to say, 'What have I been doing in my life to play host to this disease? As a result of that, I changed my life. I decided I would eat as though my life depended upon it. I changed my sleeping habits. I started managing my stress [and] eliminating toxins — the things that turn off the cancer protective genetic switches … Innately, that's what I did 11 years ago. I just focused on: 'I will never get cancer again if I do these things for my body.'"
Don't Miss:
SURPRISING New Study Finds 1 in 6 Cancers Caused by THIS (and you can easily prevent it!)
Filed Under:
Cancer
Written By: Updated:
June 15,2012