Dig into your bathroom closet or look under your kitchen sink and chances are you'll find one of nature's great health rejuvenators nicely boxed up and ready to use. And if you don't, you can pick up a box for a couple dollars at virtually any pharmacy.
I like to think of Epsom salt, which is the common name for magnesium sulfate, as a home health spa in a box. Simply add it to water and you have a multitude of benefits ready to go.
Sarah Williams commutes an hour each way to work in busy traffic and swears by the Epsom salt baths. She soaks three times a week for 30 minutes in an Epsom salt bath to relieve stress, relax sore muscles, and ease body aches.
Rheumatoid arthritis sufferer John Miller recently started using Epsom salt baths to improve his physical condition. The warm bath water increases blood circulation and reduces the swelling of his arthritis. Meanwhile, the Epsom salt itself adds properties which reduce pain and joint discomfort.
John likes to use a commercial lotion containing Epsom salt for spot treatment on his knees and legs. He also uses it to reduce the swelling and stiffness of his arthritic fingers.
Truth be told, there's all kinds of benefits of Epsom salt ranging from health to beauty and even practical home and garden uses. Here's some of my favorites I've collected. Perhaps you have more great tips to add so if you don't see your favorite Epsom salt tip here please add it in the comments below this article!
Health Benefits of Epsom Salt
Relaxes the body, eases stress and eliminates toxins
Epsom salt increases the level of magnesium in the body which helps your body release more serotonin, leaving you feeling calm, relaxed and less stressed. Plus, sulfates in Epsom salt help flush toxins and heavy metals from your cells, helping your body to eliminate a number of harmful substances. A general rule of thumb is to bathe at least three times a week in an Epsom salt bath (about 2 cups of magnesium sulfate per bath) to look better, feel better and gain more energy.
Relieves pain, releases muscle cramps and improves nerve function
Bathing in magnesium sulfate also relieves inflammation. It's great at relieving sore muscles, bronchial asthma and even migraine headaches which are sometimes caused by magnesium deficiencies. You can apply a thick paste of Epsom salt and hot water directly to sore areas for better concentration of the mineral if you'd rather not take a bath. Epsom salt also helps regulate electrolytes in your body, helping ensure proper functioning of your nerves and muscles.
Protects your heart and boosts insulin effectiveness
Epsom salt is thought to help lower blood pressure, prevent hardening of the arteries and prevent blood clots. In other words, it helps you avoid potentially deadly heart disease. Not just that, but it improves the effectiveness of insulin which helps diabetics avoid the worst risks of diabetes.
Many also use Epsom salts to treat their constipation by mixing it with water and taking it orally or using it in an enema. If you want to use it for constipation the easiest way might be to pick up a bottle of Milk of Magnesia and use that, but most packages of Epsom salt have directions for use as a laxative. Just be aware it can work very fast and may cause minor side effects like cramping, gas, nausea and even diarrhea (but at least you get to go).
Beauty Benefits of Epsom Salt
I don't use these Epsom salt beauty tips as often as the health ones, but I'm sure some of you will find them helpful. I got these tips from a friend who can vouch for them though.
Exfoliate — To clean and exfoliate your face, mix a little Epsom salt with your favorite cleansing cream for a deep pore cleansing facial. Massage it onto skin, rinse with cool water and pat dry. In the shower or bath mix a handful of Epsom salt with baby or olive oil, rub over wet skin to exfoliate and soften. Rinse thoroughly.
Hair care — To remove hairspray mix 1 gallon of water, 1 cup of lemon juice and 1 cup of Epsom salt. Cover and let set for 24 hours. Pour the mixture onto your dry hair and wait 20 minutes. Shampoo as normal. For maximum hair volume combine equal parts deep conditioner and Epsom salt. Warm the mixture in a pan or your microwave (don't cook it, just warm it). Work the warm mixture through your hair and leave on for 20 minutes. Rinse thoroughly.
Daily skin care — To dislodge blackheads add a teaspoon of Epsom salt and 3 drops iodine into a half cup of boiling water. Apply mixture to the blackheads with a cotton ball. To soothe achy feet, soften rough skin and remove foot odor, mix a half cup of Epsom salt in warm water and soak your feet for at least 10 minutes. Mix Epsom salt with baby oil and keep by the sink for a moisturizing hand wash.
Home and Garden Benefits of Epsom Salt
Clean bathroom tiles – Epsom salt is a very effective home and garden product. Mix equal parts Epsom salt and liquid dish detergent to create a scrub to clean kitchen and bathroom tiles.
Fertilize houseplants – Epsom salt is also a good fertilizer for houseplants, roses and other flowers, and trees. Mix up to a teaspoon of Epsom salt into a gallon of water to make a liquid fertilizer, or simply sprinkle a very small amount around your plant (a little goes a long way).
Keep your lawn green – Add 2 tablespoons of Epsom salt to a gallon of water and sprinkle your lawn to keep it healthy and green. Magnesium sulfate, when added to the soil, provides vital nutrients that help prevent the loss of green color in plants.
Apply to Your Skin for Fast Pain Relief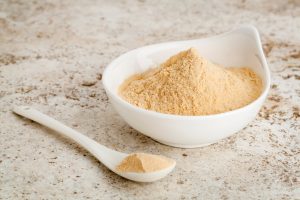 Epsom salt easily penetrates your skin when applied as a paste or when used in a bath… and is noted for its ability to quickly relieve muscle spasms.
It also helps eliminate annoying muscle twitches and reduce joint pain.
But it's not the only skin-absorbed pain reliever you should keep in your natural medicine kit for fast pain relief.
That's why I've prepared a free report detailing how magnesium sulfate and nine more natural pain relievers help you quickly overcome muscle pain, joint pain, nerve pain and even emotional, stress-based pain simply by applying them to your skin.
Filed Under:
Pain Relief
Written By: Updated:
December 23,2010