Don't look now, but drinking water could be bad for you.
At least that's the nonsense suggested by British doctor Margaret McCartney, published in the somewhat respectable British Medical Journal.
In her article, Dr. McCartney suggests there really is no hard evidence that drinking more water is good for you. In fact, she warns of the dangers of drinking too much water, such as potentially deadly hyponatraemia.
Some of the points she makes are valid, such as much of the "education" about drinking water is provided by the bottled water industry — hardly a bias-free resource.
In fact, like we've said before, much of the bottled water is no better, and often worse, than tap water straight from your sink (although fluoridation poses risks in many municipalities — but may still be in your bottled water).
Conditions like hyponatraemia, which is a condition of low sodium in body fluids typically brought on by excessive consumption of water during or after extreme exercise like a marathon, is hardly a condition any normal person would encounter following any semblance of a normal diet and even the far upper range of daily water intake recommendations.
Other claims made in the article not only ignore sound peer-reviewed science, they even stretch the boundaries of common sense.
Like her claim that drinking water before a meal has no effect on appetite. In support of that view she cited a 22-year-old study comparing the effects of drinking beverages sweetened with either sucrose or aspartame on the appetites of 2 to 5 year old children. Water was used as a control.
Guess what? Some sweetened drinks suppressed appetite more than water. But any parent can tell you that giving their child a drink, whether water or not, before or even during dinner can reduce their appetite.
But is there any scientific evidence Dr. McCartney asks? Turns out a study (as opposed to Dr. McCartney's opinion article) published the same day found drinking water helped overweight children increase their bodies' resting energy expenditure. In other words, drinking water increased their metabolism — which would help them lose weight.
No reason to believe the same effect won't hold true for adults.
There's plenty in Dr. McCartney's misguided article we could pick apart, but I'm not going to waste any more time on that. Her opinion may make a temporary splash on some news headlines thanks to being published in a medical journal, but it simply doesn't change long-recognized (and in many cases, scientifically-established) facts about drinking water.
Instead, I'm going to share some specific reasons you probably should drink more water than you are now… especially if you have back pain.
According to a comprehensive review of human water and related electrolyte requirements published by the U.S. Institute of Medicine, the Adequate Intake for water is 3.7 liters for men and 2.7 liters for women. Adequate Intake is basically defined as the minimum to prevent dehydration.
These values were set understanding about 80% of our total water intake comes from what we drink, and about 20% from what we eat. So an adult man should be drinking 3 liters per day at a minimum just to stay properly hydrated. Obviously this need only increases in hot weather, physical activity, etc.
How much water did you drink today?
Sure, your body can get water out of soda, coffee, beer, or other beverages… and even food. But your body needs water so give it more of what it needs.
If you have back pain, drinking more water may help. Here's a few reasons why…
So let me ask you again… how much water did you drink today?
If your answer was "I drank a glass of water to take a handful of pain pills" then it's definitely time to drink more water…
Natural Cleanse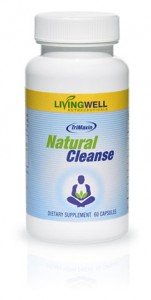 Discover how Natural Cleanse helps you feel better, look better and live longer by cleaning out the toxins your body desperately wants to get rid of. 
Try Natural Cleanse Today… Or Buy 2 And Get 1 Free!
References
McCartney, M. Waterlogged? British Medical Journal. 2011 Jul 12.
Dubnov-Raz, G. Influence of water drinking on resting energy expenditure in overweight children. International Journal of Obesity. 2011 Jul 12.
Dietary Reference Intakes for Water, Potassium, Sodium, Chloride, and Sulfate. Food and Nutrition Board. Institute of Medicine. 2005.