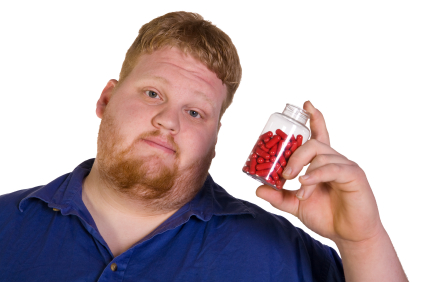 If you're one of the three in 10 Americans currently trying to lose weight, diet pills may have crossed your mind as a reasonable solution. It's an alluring proposition: pop a pill or two in the morning and watch your extra pounds melt away.
Yet, of those who have actually succeeded with their weight loss goals, only 4 percent say using diet pills helped.[i]
Perhaps this is because even prescription diet drugs, which have been "proven" to help you lose weight, do so only modestly and only for a limited time. Most are only meant to be used for up to six months, after which your body may develop a tolerance to the drug, making it less effective. And while some diet drugs may help you lose up to 22 pounds in a span of about six months, some only amount to a weight loss of just over 4 pounds[ii] … which is hardly worth the serious risks that many diet pills carry.
8 Dangers of Diet Pills: Do You Know the Risks?
Diet pills, whether prescription or over-the-counter, cause different types of side effects depending on the ingredients they contain and their mechanism of action. Among them:
8. Cramping, Gas, Diarrhea and Anal Leakage
Certain drugs, such as orlistat (Xenical and Alli (available over the counter)), work by inhibiting fat absorption from your intestines.  Because of this fat-blocking action, orlistat often leads to cramping, gas and diarrhea, along with embarrassing anal leakage, which can leave oily stains on your undergarments.
7. Problems with Nutrient Absorption
Another side effect unique to orlistat's ability to block fat absorption is that it also inhibits the absorption of certain essential vitamins, particularly those that are fat-soluble. This risk is so well documented that it's recommended you take a multivitamin to compensate if you're taking this drug.
6. Dehydration
If you're using water pills or diuretics to lose weight, it's a dangerous idea because the pills can quickly strip your body of essential fluids, including electrolytes needed to keep your heart beating properly. If you become overly dehydrated, you may not only experience fatigue but also serious health risks like seizures and kidney failure.[iii]
5. Dependency
Laxatives are often misused as dietary aids, which can pose serious health risks, including causing your gut to lose its natural ability to have a bowel movement. The user may then become dependent on the drugs just to feel "normal." Other risks linked to misuse of laxatives include irritable bowel syndrome (IBS), intestinal paralysis, pancreatitis and even kidney failure, according to Dr. Jaime Schehr, a naturopathic doctor and registered dietitian.[iv]
4. Insomnia
Many over-the-counter diet pills contain caffeine, which can obviously interfere with your sleep. The amphetamine-like prescription medication phentermine (Adipex-P, Suprenza, Ionamin), which helps to suppress appetite, is also known to cause side effects such as sleeplessness, nervousness and anxiety (along with increased blood pressure, dizziness and constipation).
3. Liver Problems
Many first learned of the link between diet pills and liver damage in 2009, when the popular Hydroxycut weight loss supplement was recalled after reports of liver damage and at least one related death.
More recently, researchers analyzed data from the National Institutes of Health-funded Drug-Induced Liver Injury Network (DILIN) (which keeps track of those who experience liver injury within six months of using certain drugs, herbal products or supplements) and found that weight loss supplements were among the most common offenders. Many suffered from inflammation of the liver that might have been fatal without a transplant, and 12 percent of those taking a weight loss supplement required a liver transplant.[v]
In 2010, the U.S. Food and Drug Administration required a warning label on both Xenical and Alli, warning of the potential for liver damage.
2. Severe Toxicity to Major Organs
This year, a study was released that found not only your liver is at risk when taking the diet drugs Xenical and Alli. Even low doses of the drug were found to inhibit the function of an enzyme called carboxylesterase-2, which helps with detoxification of the liver, kidneys and gastrointestinal tract. The researchers noted that this effect may result in "severe toxicity of internal organs."[vi] [vii]
1. Heart Problems
Certain diet drugs work by stimulating your sympathetic nervous system, which helps to suppress appetite. This can lead to dangerous increases in blood pressure and heart rate, which may in turn raise your risk of heart attack and stroke.
The popular diet drug sibutramine (Meridia) was pulled from the market in 2010 for this very reason, after a study linked the drug to a 16 percent increase in serious heart problems, including heart attack and stroke (and only a small amount of weight loss to show for it).
A Truly Natural Weight Loss Aid … Is There Such a Thing?
Losing weight is important if you're overweight or obese, but you don't want to do it at the expense of your health, simply trading one set of health risks for another.
Instead, one of the often-overlooked variables in healthy weight loss is your body's natural production of youth hormones (HGH, or human growth hormone), which begins to steadily decline by the time you reach your early 30s. Around this same time, you probably find you "can't eat the way you used to," and losing weight becomes much harder because your metabolism slows down, your aerobic activity decreases and your muscles begin to shrink.
Trying to lose weight without first dealing with your declining HGH 'youth hormones' is like trying to push a parked car up a long hill!
This is why you might be interested in learning about ThinMist, which is NOT a synthetic form of HGH, but a way to increase your body's production of this youth hormone naturally. This breakthrough formula contains a uniquely calibrated blend of 7 essential vitamins and amino acids that work together to help boost your body's ability to produce HGH. Among them:
L-Valine: To help muscles heal after strenuous workouts. By speeding the recovery of muscle, lean muscle develops quickly. And the more lean muscle your body has – the more fat-burning power it possesses
L-Arginine: Clinically shown to boost your production of creatine in the muscles … increase circulation … improve blood flow … boost sexual desire … and even protect your heart
L-Tyrosine: To turbo charge your adrenaline! Also helps suppress your appetite … improve your brain's ability to focus … relieve headaches and tension … and fight off chronic fatigue
Instead of getting you jacked up on caffeine or ephedrine (like so many diet pills you'll find on the market today) … ThinMistâ"¢ has been scientifically formulated to NATURALLY help boost the chemicals and hormones that regulate your blood sugar levels, energy and mood.
You don't need to rely on artificial stimulants that leave you feeling jittery or diet pills that may be putting your heart or liver at risk. ThinMistâ"¢ helps regulate your production of insulin, dopamine, serotonin and other catcholamines, (and of course HGH) leaving you feel naturally energized and motivated, while also making it easier for you to lose weight.

---
Filed Under:
Weight Loss
Written By: Updated:
December 20,2012