What is scoliosis?
Scoliosis is a lateral, or sideways, curvature of the spine, which in its normal state should be a straight vertical line when viewed from the front or back. Viewed from the side, a normal spine curves slightly backward to produce a mild degree of roundness in the upper back area and slightly inward curve in the lower back. When a person with scoliosis is viewed from the front or back, the spine appears to be curved to either side of its normal vertical line.
What causes scoliosis?
There are numerous causes and types of scoliosis. Neuromuscular scoliosis is caused by abnormal muscles or nerves. This is often seen in people with spina bifida or cerebral palsy, or in those with a number of conditions that include or lead to paralysis. Congenital scoliosis occurs as a result of a bone abnormality that is present at birth. Degenerative scoliosis is bone collapse due to an injury or illness, previous major back surgery, or osteoporosis (a disease that causes thinning of the bones). The most common type is called "idiopathic scoliosis," and a cause for this has not yet been identified. There is, however, substantial evidence that idiopathic scoliosis is inherited.
Who gets scoliosis?
Roughly 2 to 3 percent of American 16-year-olds have scoliosis, although less than one tenth of 1 percent have curves that might require surgery (a curvature measuring 40 degrees or higher). It is not known why, but girls are more likely to have scoliosis than boys. Idiopathic scoliosis, the most common kind, typically affects kids ages 10 through 16, and it usually gets worse as a child grows, though it rarely progresses into adulthood.
What are the symptoms of scoliosis?
Scoliosis does not have symptoms as such, but there are discernable warning signs. These include uneven shoulders or hips, a shoulder blade that juts out, noticeable leaning to one side, or walking with a rolling gait. Persons with scoliosis may experience back pain or tire easily during activities that require excessive chest and stomach movement.
How is scoliosis diagnosed?
Usually, scoliosis is first observed by a child's pediatrician, a parent, or it is discovered during a routine school screening exam. To establish the presence and type of scoliosis, a bone exam is necessary, as well as an X-ray to determine the extent of the curve.
What are the most common scoliosis treatments?
Most adolescents who are diagnosed with idiopathic scoliosis need to be checked every four to six months, which should include a physical exam and an X-ray. For those with a spinal curve anywhere from 25 to 40 degrees – especially if they have at least two more years of growth ahead of them – bracing is the most common treatment. Braces are designed to stop the progression of the curvature and will occasionally produce a temporary correction. When the brace is removed, however, the curve usually will return to its previous position.
Surgery is often recommended for those with a spinal curve greater than 40 degrees. But surgery will only keep the curve from getting worse; it will not bring the spine back to perfect vertical alignment. During the procedure, metallic implants are used to correct some of the curvature and hold it in the proper position until a bone graft creates a rigid fusion in the area of the curve. Surgery usually involves joining the vertebrae together permanently – which is called spinal fusion. Because fusion prevents growth in the fused part of the spine, another technique may be used for younger children. In this case, a brace is always required after surgery.
"Stronger Than Prescription Drugs But Without The Dangerous Side Effects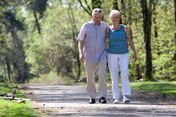 Dan Monahan had reached the point where he was willing to try anything – anything to ease the constant pain and inflammation in his leg. He could no longer walk. Even standing was uncomfortable.
His doctor gave him several prescription medicines but nothing helped. Pain was ruining his life. When Dan saw an ad for this natural pain reliever, he was skeptical. How could this product work when every prescription his doctor gave him hadn't? But he decided to give it a try. Let Dan tell you what happened:
"Was I pleasantly surprised! After only 2 to 3 days on the activation dose, I noticed reduced inflammation and less pain in my leg."
After just three weeks, Dan started walking again. This all natural product worked for Dan when all of his prescription drugs hadn't. You can relieve your constant, burning pain when prescription drugs no longer work — just like Dan did — with Heal-n-Soothe™.
That's because Heal-n-Soothe™ works differently than prescription drugs. Here's how:
Prescription drugs reduce inflammation by switching off important compounds your body needs. Many are vital to your health. Eventually, you may need more drugs to get the same relief. Or worse, you experience dangerous side effects caused by drugs that are supposed to help you feel better.
Heal-n-Soothe™ works with nature by adding more of the enzymes that naturally reduce inflammation. With Heal-n-Soothe™, your body has everything it needs to repair and renew your muscles and joints. You have less pain as a result – with no life threatening side effects.
So if you're in constant pain and prescription drugs no longer help, don't wait another second. Click here to ease your pain and cool inflammation with Heal-n-Soothe™!
Written By:
Updated:
May 12,2011