A chiropractor is often the first choice for those seeking relief from lower back pain. And for good reason.
Chiropractic is a natural and non-invasive form of therapy that allows your body to naturally heal itself by removing interferences in the nervous system caused by spinal misalignments, called subluxations.
But is a chiropractor really your best resource when it comes to chronic lower back pain?
Last month a review of 26 randomized controlled trials was published in Spine. Combined they examined over 6,000 patients with chronic lower back pain given either spinal manipulative therapy or a placebo treatment.
What the review found is surprising to many.
While chiropractic combined with other treatments was found to enhance pain relief in the short term, by themselves, spinal manipulations were no more effective than placebo treatments over the long term for treating chronic lower back pain.
The real question is whether chiropractic is a viable option at all for lower back pain.
Well, the review found chiropractic to be clinically no different than other interventions reviewed for reducing pain or improving function. While the study's authors stressed the cost-effectiveness of care as having a high priority, I'd recommend a different approach.
Since chiropractic care can be an effective therapy for lower back pain, it's worth considering. It's certainly a far cry better than the typical drugs and surgery routine offered by most conventional doctors. So that alone is a mark on the plus side for considering a chiropractor.
A spinal adjustment can help return your spine to a healthy, neutral position. Besides "cracking your back," most chiropractors also use other modalities to help relieve their patients' pain such as hot and cold packs, ultrasound, electrical stimulation, and a variety of hand held mechanical devices for vibration and direct pressure.
Sadly many chronic back pain patients continue to visit the chiropractor for months with little progress. They are instructed to return frequently so the adjustment "will hold."
The failure here is one of focus. One of our customers some time ago said it best, "Bones only go where our muscles put them."
In other words, an imbalance in the strength of opposing muscles will continue to pull your spine out of its neutral position. The truth is a lifetime of chiropractic adjustments will never "hold" if your daily activities produce muscle imbalances which keep pulling your spine painfully out of whack between visits.
Unfortunately, few doctors, chiropractors and physical therapists are trained fully in recognizing and treating muscle imbalances. And when they are, most have trouble adequately explaining the concepts much less giving specific advice in a 15-minute appointment.
That's why we developed Lose the Back Pain to help back pain sufferers identify and eliminate their own muscle imbalances. Using it, tens of thousands have found relief from chronic lower back pain, sciatica, neck pain and other stubborn pains through simple stretches and exercises targeting these muscle imbalances. In many cases they've been able to give up drugs, doctors, and even wheelchairs.
So go ahead and visit the chiropractor. Ask them which muscle imbalances are causing your particular subluxations. If they can't help you with that, be sure to bring your copy of Lose the Back Pain with you to your next office visit.
Most Popular: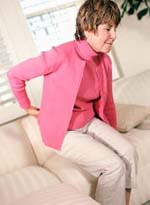 References
Rubinstein SM, et al. Spinal manipulative therapy for chronic low-back pain: An update of a Cochrane review. Spine. 2011 Jun.