… #3 May Surprise You!
Death is a topic no one likes to think about, but the fact of the matter remains that knowledge is power. And by getting informed about what the top causes of death in men are, you can step up your efforts to prevent them … now … before they occur.
So while this may not exactly be a "fun" read … consider it one that is well worth your time. It could, after all, help to save your life … especially if it kicks you into gear to get healthy.
Top 10 Causes of Death Every Man Should Know
Although Alzheimer's impacts more women than men, nearly 2 million U.S. men currently have Alzheimer's disease, and its incidence is increasing rapidly.
While someone in the U.S. currently develops this disease every 68 seconds, by mid-century this is expected to increase to one every 33 seconds.[i]
While the exact causes are still unknown, growing research suggests many of the risk factors are modifiable. In fact, many of the same factors that increase your risk of heart disease — inactivity, smoking, obesity, poor diet, diabetes — also increase your risk of Alzheimer's. Additionally, you can reduce your risk by:
9. Kidney Disease
While diabetes and high blood pressure are responsible for causing most cases (about two-thirds) of chronic kidney disease, an enlarged prostate gland, autoimmune diseases, inherited conditions, glomerulonephritis (which causes inflammation and kidney damage) and the use of certain medications, such as aspirin and ibuprofen, can also contribute.
Chronic kidney disease often develops slowly, and many do not realize they have it until their kidneys fail. Symptoms to watch, especially if you have diabetes, high blood pressure, or a family history of the disease, include:
Fatigue
Trouble concentrating
Poor appetite
Trouble sleeping
Nighttime muscle cramps
Swollen feet and ankles
Puffiness around your eyes in the morning
Dry, itchy skin
More frequent urination, especially at night
You can help lower your risk of kidney disease by managing conditions like diabetes and high blood pressure, along with drinking plenty of water, exercising, eating right, not smoking and being careful with your medication use.
8. Suicide
Men are four times more likely to commit suicide than women, and when they attempt to do so, they're more likely to succeed.
Depression is the biggest risk factor, and men often don't seek help for this condition so their risk of suicide rises.
While a healthy lifestyle and a support network of friends and family can help keep your emotional health in check, if you're struggling with depression, anxiety or other negative emotions, or are having thoughts of suicide, you need to seek professional help.
7. Influenza and Pneumonia
It's not known how many people die each year from influenza and pneumonia (a common flu-related complication), however the U.S. Centers for Disease Control and Prevention (CDC) puts estimates at anywhere from 3,000 to 49,000 flu-related deaths a year.[ii]
While most cases of the flu are not life-threatening, these viruses can aggravate an existing chronic illness (such as congestive heart failure or chronic obstructive pulmonary disease), as well as lead to pneumonia.
A healthy diet and lifestyle, along with regular hand-washing, are among the best ways to protect yourself against pneumonia and the flu.
6. Diabetes
About 13 million men, or nearly 12 percent of men aged 20 years and older, have diabetes.[iii]
Most often, this is type 2 diabetes, which means your body either does not produce enough insulin or your cells have become resistant to the insulin you do produce.
This allows sugar to build up in your blood, leading to serious complications, including heart disease, nerve and kidney damage, amputation, blindness and death.
Eating healthy, staying physical active and losing weight are all important for diabetes prevention. In fact, even losing just 7 percent of your body weight if you're overweight can reduce your diabetes risk by 58 percent.[iv]
5. Chronic Obstructive Pulmonary Disease (COPD)
COPD is a lung condition in which airflow is persistently blocked in the lungs (it includes such diseases as chronic bronchitis and emphysema). Nearly 61,000 men die from COPD annually.[v]
Smoking (and exposure to second-hand smoke) is the leading cause of COPD, so quitting is the best preventive strategy you can take if you currently smoke.
Exposure to air pollutants, asthma, respiratory infections and genetic factors may also play a role.
4. Stroke
If a blood vessel that carries oxygen to your brain is blocked or bursts, a stroke occurs. This can lead to life-threatening brain damage within minutes.
On average, 795,000 Americans suffer from a stroke each year, which means one occurs every 40 seconds. About 40 percent of stroke deaths occur in men.[vi]
Many risk factors for stroke are preventable, and mimic those that cause heart disease and heart attacks.
Eating a healthy diet, exercising, losing weight if you're overweight, not smoking and managing other health conditions (like diabetes and high blood pressure) can all reduce your stroke risk.
3. Unintentional Injuries
Over 118,000 people died from unintentional injuries in 2009.[vii] Among the top causes were motor vehicle accidents, falls and poisonings, along with drowning and fires/burns.
2. Cancer
Nearly 300,000 U.S. men die from cancer each year, with lung cancer, followed by prostate and colon cancers, making up the most common types of cancer deaths in men.[viii]
Not smoking, maintaining a healthy weight, eating right and exercising are among the most important cancer prevention tips. Screening tests for colon cancer, starting at age 50, are also important, as pre-cancerous polyps can be detected and removed before they turn into cancer.
1. Heart Disease
As the leading cause of death in men, heart disease is responsible for one in every four male deaths in the United States (or over 307,000 men annually).
Heart disease can strike suddenly and be deadly; half of those who die from sudden cardiac death have no prior symptoms.[ix]
Strong risk factors for heart disease include high blood pressure, high LDL (bad) cholesterol, and smoking (nearly half of Americans with heart disease have at least one of these risk factors).
Others include diabetes, overweight/obesity, poor diet, physical inactivity and excessive alcohol use.
Many of the Top Causes of Death are Preventable
If there's a theme to be noticed, it's that your lifestyle choices can drastically reduce your risk of succumbing to many of the leading causes of death.
The power is in your hands, and we recommend you take advantage of ALL the tools at your disposal to protect and boost your health.
This includes not only the "typical" advice like eating right and exercising, but also using the natural health cures in The End of All Disease.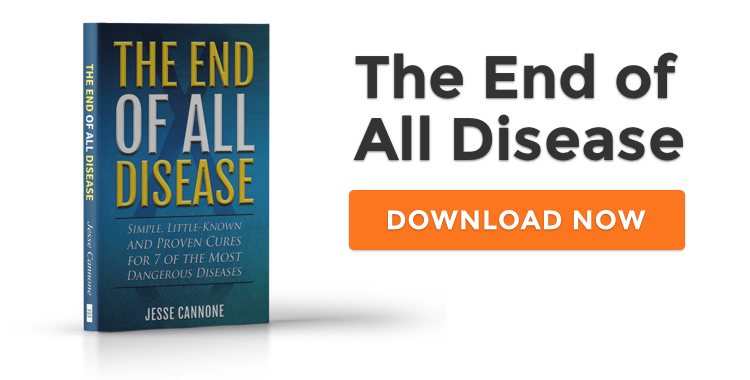 This book is FREE, so there's no time like the present to start restoring your health.
---
Sources:
Mission Hospital, Top 10 Causes of Death in Men
Illinois Department of Public Health, Top 10 Causes of Death in Men
---
Filed Under:
Men's Health
Written By: Updated:
November 15,2012