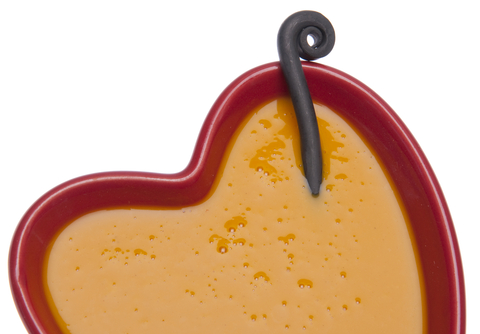 Here is a delicious soup I absolutely love, because it is also a powerhouse source of nutrition.
It contains key ingredients that can help fight inflammation and pain, lower bad cholesterol, and more. In fact, here is a quick rundown of the key health benefits of each of the ingredients.
Olive Oil
Olive oil provides antioxidants that can both ward off free radicals that damage your skin and also reduce inflammation — a key to disease prevention. Research also shows that people with higher intakes of olive oil had less sun-induced damage to their skin,[i] while the monounsaturated fats in olive oil are wonderful for your heart, and may help lower your total and LDL (bad) cholesterol levels, and normalize blood clotting, which can reduce your risk of heart disease.
Carrots
Carrots are high in beta-carotene, the carotenoid responsible for the bright orange color in the vegetable and as a pre-cursor to producing vitamin A in the human body. Vitamin A is essential for healthy skin, vision and immune-system function, while beta-carotene is an antioxidant that research suggests may lower your risk of cancer and heart disease.
Garlic
Garlic has both antibacterial and antiviral properties, potentially helping to ward off infections like colds and the flu. Plus, garlic naturally improves the production of white blood cells and optimizes the efficiency of your antibodies, possibly due to the sulfur-based compounds like allicin, allium and N-acetylcysteine.
Onions
Onions contain quercetin, an anti-inflammatory antioxidant, along with sulfur-containing compounds that are beneficial for your heart health, bones and connective tissues. Moderate consumption of onions has also been linked with a lower risk of several types of cancer.
Ginger
Ginger is valued for relieving gastrointestinal symptoms including nausea. It also contains antioxidants and potent anti-inflammatory compounds called gingerols, which have been found to help reduce pain and improve mobility in people with chronic pain.
Turmeric
Curcumin, the active ingredient in turmeric, has shown a wealth of health potential, including increased fat metabolism (helping to prevent obesity) and a reduced risk of chronic diseases including diabetes, Parkinson's disease and cancer. It's even been shown to help treat depression and fight inflammation, helping to relieve chronic pain.
Cumin
This savory spice contains curcumin, offering many of the health benefits of turmeric (above). It's also known to support heart health and ward off infections.
Cayenne Pepper
Spices such as cayenne pepper are powerful natural anti-inflammatories. Their active ingredient, capsaicin, works to inhibit Substance P, a neuropeptide that causes nerve fibers to swell and triggers inflammatory processes and pain in your body.
Paprika
Paprika also contains capsaicin, which in addition to fighting pain may also help lower your risk of cancer.
Cilantro
Along with powerful anti-inflammatory properties, cilantro is well known for its role in natural cleansing and may bind to, and help remove, heavy metals from your body.
Boost Your Health With This Delicious Carrot Ginger Soup Recipe!
Carrot Ginger Soup
Ingredients (makes 5 servings)
2 tablespoons olive oil
7 large carrots, peeled and chopped into rounds
1/2 medium yellow onion, chopped
3 cloves garlic, minced
1 inch piece fresh ginger, peeled and grated or minced
1 tablespoon honey
1 teaspoon curry powder
1/2 teaspoon turmeric
1/2 teaspoon ground cumin
1/2 teaspoon paprika
1/2 teaspoon crushed red pepper flakes
1/8 teaspoon cayenne pepper
Salt to taste
Freshly ground black pepper to taste
4 cups low sodium vegetable broth
6 ounces fat-free plain greek yogurt, to serve
1/4 cup fresh cilantro, chopped, for garnish
Directions
In a large pot, heat the olive oil over medium heat. Sauté the onions for about 5 minutes or until slightly brown. When the onions are brown, add the carrots and sauté for another 2 minutes.
Add the ginger, garlic, honey, turmeric, curry powder, paprika, cumin, red pepper flakes, and cayenne pepper into the pot of vegetables. Stir and sauté for another two minutes.
Slowly pour 4 cups of vegetable broth into the pot. Bring the mixture to a boil and turn the heat down to a low setting. Cover the pot and simmer for about 40 minutes, or until the carrots are tender.
Blend the soup using an immersion blender, food processor, or blender. When the entire pot is blended, check it for consistency. If the soup is too thick, additional vegetable broth may be added.
Add salt and black pepper to taste.
Serve immediately with a dollop of yogurt and dash of cilantro on top.
Nutrition (per serving)
Calories: 120 cal
Total fat: 3g
Saturated fat: <1g
Monounsaturated fat: 2g
Cholesterol: 0mg
Sodium: 197mg
Potassium: 370mg
Carbohydrate: 19g
Fiber: 4g
Protein: 5g
Natural Standard Recipe, Copyright © 2013
---
[i] J Am Coll Nutr February 2001 vol. 20 no. 1 71-80