and How to (Really) Stay on One!
Calorie restriction may be the easy path to life-long wellness even though it sounds hard to do.
As humans, we're not conditioned to say no to abundance. Your ancestors had to eat anything they could to stay alive.
Bring that same eat-it-all habit into the modern world of drive thru, delivery, and 24-hour supermarkets though and it's no wonder the average American is 17 pounds over their ideal weight!
Unfortunately, most of us associate saying no to food with starving ourselves. Who wants to be hungry all the time? No one — especially since you don't have to be.
Now science allows you to reap the health benefits of a calorie restricted diet without making you feel starved. This is great news for anyone looking to reap the surprising rewards of a low calorie lifestyle.
It's not just dropping enough pounds to get back in your high school pants — that's an obvious benefit. What most people don't know is that calorie restriction diets can also extend your life, reverse obesity-related disorders, help your heart, and boost your memory.
Live Longer With Calorie Restriction
Boosting life expectancy with a calorie restriction diet has been studied since the 1930's. Researchers found you can almost double the lifespan of some animals by reducing their caloric intake 25% to 30%. It is also possible to offset the negative effects of the aging process like loss of muscle tone and energy by cutting calories.
The same benefits are available to humans through three key mechanisms that kick in when you cut back. Your body benefits from reduced oxidative stress on your DNA, the creation of more resilient cell structures, and the hard work of enzymes called sirtuins, which regulate the relationships between incoming nutrients and your metabolism when you eat less.
Right now in America, the National Institute of Health is conducting a landmark study to precisely separate the weight loss effects of calorie restriction from the anti-aging effects. Known as the Comprehensive Assessment of Long-Term Effects on the Intake of Energy (CALERIE) study, it enrolled healthy, normal weight individuals in a rolling two year study that will finish in late 2012. The early results have been very encouraging, showing that participants have experienced deep-level biological changes that will help them thrive for years after the study ends.
The participants weren't in it for the weight loss, even though most did lose significant amounts of weight. They were in it for the anti-aging and life-extending benefits of eating less. In interviews, they talked about seeing their young children grow up, attending family weddings and enjoying life to its fullest for years to come. They don't fear death — they love life and will have more of it thanks to calorie restriction.
Freedom from Obesity-Related Disorders
Being fat leads to multiple health problems. Diabetes, high cholesterol, and digestive complaints are all more likely when your waistband expands. These chronic health challenges drag down your quality of life and cost you a fortune in pills and doctors' visits. With a calorie restriction diet, you can fight back.
Diabetes risk factors can be virtually eliminated. CALERIE data shows you have lower insulin resistance on a calorie restriction diet, dramatically reducing the odds you'll develop Type-2 diabetes.
Bad cholesterol levels fall and good cholesterol levels rise. You can move from scary high-risk numbers and statin prescriptions to enjoying the cholesterol levels of a healthy 20 year-old.
Digestion improves. Calorie restriction diets feature high satiety foods, which mean you eat lots of fruits, vegetables, and soluble fibers. This can restore a healthy gut environment and eliminate trouble with constipation and irritable bowels.
Change in any one of these areas can mean a major quality of life improvement — to say nothing of how much better you'll feel dropping your unsightly and unwanted pounds!
Improved Heart Health
Heart disease causes 33.6% of all U.S. deaths. Out of those Americans still dealing with heart disease, 4 million are on permanent disability. More than $444 billion was spent treating heart disease in 2010, but by cutting back some calories you don't have to make your health care dollars part of that number.
Both small and large studies confirm that a calorie restriction diet improves your heart health and lowers your cardiovascular risk factors. In one study of people who had been on a calorie restriction diet for an average of six years, their systolic and diastolic blood pressure levels averaged 100/60 — the same levels normally seen in healthy 10 year-old children!
"I don't know why anyone would take drugs when they could do something like this," says Dr. Susan Roberts, lead researcher with the CALERIE study at Tufts University. Dr. Luigi Fontana, another pioneer in calorie restriction studies, has called the effects of calorie restriction diets, "a powerful intervention that is basically cleaning out the arteries," of heart patients.
Better Memory
Of course, all these calorie restriction diet health benefits don't seem so great if you can't even remember your name throughout your extended lifespan. Fortunately, calorie restriction helps improve your memory to keep you sharp as a tack throughout your life.
You can improve your memory by an average of 20% over three months on a calorie restriction plan. Researchers at The Salk Institute in California found that normal and obese elderly patients showed significant increases in verbal memory scores when they reduced their caloric intake by 30%. Those with the best results over time were those who stuck closely to their diets … something that's much easier to do if you have the right tools.
How To Really Stick To A Calorie Restriction Diet
You know staying on a diet can be a real pain — especially when you have a busy life full of family and work responsibilities. It's easy to cheat and indulge yourself. Desserts taste good and going hungry hurts.
To succeed with calorie restriction, you need to cut out 25% or more of your calories for at least a year. You can use a nutritionist, counseling, support groups, or carefully weighed and measured meal plans to get it done. Count every calorie and don't even think about cheating.
Alternatively, you can give yourself an insider's track to success on a calorie restriction diet. We've created the perfect shortcut for you if you really want to make a low calorie diet work for you.
It's a simple weight loss spray that eliminates your hunger and helps you feel full even on a strict diet plan. You can cut out the foods that make you fat without missing them. It's your secret high-speed road to the life-extending, health-improving, and waistline-shrinking benefits of calorie restriction.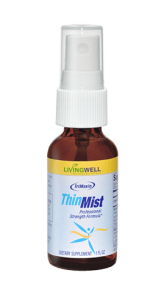 KILL Cravings … Get RESULTS 200% Faster… and Keep the Weight Off PERMANENTLY…
References
About CALERIE. Duke University. 2008 May 12.
Center for Disease Control (CDC). Heart Disease and Stroke: The Nation's Leading Killers. 2010 Jul 21.
Eat less, live more. The Economist. 2006 Apr 20.
Fontana, L et. al. Long-term calorie restriction is highly effective in reducing the risk for atherosclerosis in humans. Proceedings of the National Academy of Sciences. 2004 101(17):6659-63.
Gertner, J. The Calorie-Restriction Experiment. The New York Times. 2009 Oct 7.
Newport, F. Average American weighs 17 pounds more than "Ideal". Gallup Wellbeing. 2007 Nov 28.
Strict Diet Lowers Heart Risk. Medical News Today. 2004 Apr 23.
Witte, A et al. Caloric restriction improves memory in elderly humans. Proceedings of the National Academy of Sciences 106 (4):1255—60. 2009.