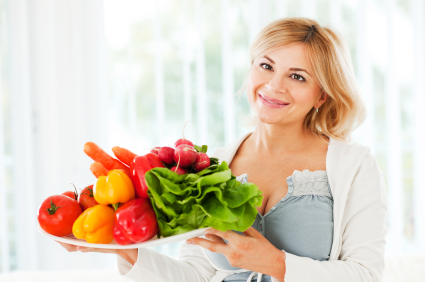 Snacks … everybody eats them but not everyone gets them 'right.'
Grab a handful of pretzels and it's not likely to satisfy … you'll be looking for another within five minutes. A fruit smoothie may seem like a good choice … but unless it's one you've made at home, there's a good chance it contains far too much sugar.
Other snack staples like carrot sticks and celery are healthy, but they lack the 'crave' factor that keeps you coming back for more.
The solution? A healthy, hearty snack that curbs hunger, boosts your energy, provides real nutrition (not empty calories) and leaves you feeling satisfied … after all, that's what a snack is all about.
10 Best Healthy Snacks You've Got to Try …
Here's we've compiled 10 best healthy snack options … try one or try them all, they're sure to become your new faves.
10. Almond Butter on Apples
Spread this deliciously rich nut butter on apple slices for a taste that will make you feel like a kid again. Apples also work well paired with cheddar cheese or cottage cheese.
9. Cherry Tomatoes and a Hard-Boiled Egg
Sprinkled with a bit of sea salt, cherry tomatoes and hard-boiled egg can satisfy your salty craving, your 'munch 'em' craving (cherry tomatoes are easy to pop in your mouth) and your need for satiating protein all in a few bites.
8. Red Grapes and Gouda
The sweet, antioxidant-rich grapes pair nicely with protein-packed Gouda cheese (and, as a bonus, Gouda has the highest levels of vitamin K2 of all cheeses!).
7. Dried Fruit and Nuts
Nuts are antioxidant-rich and full of vitamins and minerals, while dried fruit can satisfy your sweet cravings. Try a variety of combinations involving pistachios, almonds, walnuts, pecans and peanuts with dried pineapple, raisins, mangoes or cherries.
6. Veggies and Dip
It's a classic but a keeper. Keep cut-up zucchini, bell peppers, cucumber, radishes, broccoli, cauliflower, asparagus and sugar-snap peas in your fridge. Pair them with a hearty dip like hummus or homemade ranch.
5. Cold Chicken with Tzatziki
If you have leftover chicken (or even turkey or salmon), spread a few slices with Tzatziki, a Greek sauce made from cucumbers, garlic, salt, olive oil and yogurt (it's easy to make at home, or you can buy a pre-made version).
4. Guacamole
Make your own quickly by mashing up an avocado with some tomato, lime juice and salt, then enjoy with a few pita chips.
3. Stuffed Avocado
You can't go wrong when snacking on a heart-healthy, nutrient-dense avocado. Cut one in half, remove the pit, and fill the center with salsa or cottage cheese for a decadent, satisfying treat.
2. Dark Chocolate and Raspberries
If it's chocolate you crave, have a square or two of antioxidant-rich dark chocolate and pair it with a small bowl of fresh raspberries … pure deliciousness.
1. Dried Coconut
Dried coconut is rich in healthful fats, fiber and minerals. Look for unsweetened varieties in larger 'flakes' or 'chip' styles that make it easier to munch.
Spritz This Under Your Tongue When You Need to Boost Your Energy and Zap Cravings …
If an afternoon slump has you eyeing that bag of chocolate chip cookies, no amount of will power may keep you away … unless you take your ThinMist out of your pocket and spritz a few sprays under your tongue.
What is ThinMist?
It's an all-natural blend of DHEA, essential amino acids and 500 mcg of chromium to curb your sugar cravings while boosting your body's natural production of human growth hormone (HGH), which speeds metabolism and weight loss.
You simply take ThinMistâ"¢ three times each day by spraying it under your tongue, and as the ingredients slowly build up in your system they work at a cellular level to help regulate your blood sugar levels, boost energy, burn fat and stop your cravings immediately.
If certain unhealthy snacks are threatening to get the better of you, level the playing field naturally with Thin Mist.