If you or a loved one has received a cancer diagnosis, there remains hope – no matter what stage – that you can beat cancer.
And you can do it without the chemo and radiation that tends to kill as many patients as it saves.
Today, I'd like to introduce you to one of the true pioneers in the holistic treatment of cancer, Dr. Nicholas Gonzalez.
You can listen to my full interview with him on how to beat cancer below, but first I have to share a few details about his incredible path to slaying cancer…
Strangely enough, Dr. Gonzalez' path to cancer treatment started with an English Literature degree from Brown University. His training in investigative journalism at Time led him to write health articles for numerous high-profile publications including cover stories for New York Magazine and Family Health Magazine.
This work stirred an interest in medicine and soon he returned to school to earn his medical degree from Cornell following pre-med work at Columbia University. After earning his MD, he studied and interned under the famed Dr. Robert A. Good, President of Sloan-Kettering and one of the most celebrated immunologists in modern medical history.
I tell you all of this because you should know… Dr. Gonzalez is no quack, despite the efforts of those opposed to his successful natural methods of treating cancer to loudly proclaim otherwise.
Thousands of patients who traveled to his New York office for help beating cancer say Dr. Gonzalez helped save their lives.
You've doubtless heard of one of those patients, Suzanne Somers, who featured Dr. Gonzalez in her book, Knockout: Interviews with Doctors Who Are Curing Cancer — And How to Prevent Getting It in the First Place, following her successful battle against breast cancer.
Sadly, Dr. Gonzalez passed away suddenly and unexpectedly – seeing he seemed to be in excellent health – in 2015 from an apparent heart attack.
Fortunately, about a year before Dr. Gonzalez' untimely death, I had the good fortune to interview him for our monthly Live Pain Free® publication.
Now, for the first time ever, I'm making the full interview freely available to the world. Just click play below to listen now.
Consider it my gift to all those still trying to beat cancer. Yes, you can do it!
After you listen to my interview with Dr. Gonzalez, you may want to read his feature article in the September 2014 issue the CD appeared in. In it, he goes into much more detail about the century-old nutritional approach to beating cancer he followed and refined.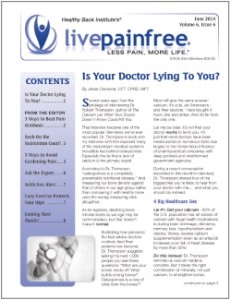 You also may be interested in listening to my recent interview with cancer researcher, Ty Bollinger, featured in the July 2017 issue of Live Pain Free®.
In fact, you may be interested in every one of our well over 100 videos, audio interviews and bonus reports… plus 9 years of back issues of Live Pain Free®… all instantly available right now when you accept my risk-free subscription offer today.
Every month my team and I ferret out the most important natural health discoveries and advances so you can live your life fully, vibrantly and pain free… interview top experts in natural health and put it on CD (or sometimes DVD video)… and deliver it direct to your mailbox.
And we always make it available to download digitally from our secure member website so you don't have to wait for the mailman.
Most importantly, I insist you love everything you get in every issue. If you don't, just let me know and you'll never pay another dime.
If you'd like to join our Live Pain Free® and start living better than ever, click the link below to learn how.
Filed Under:
Cancer
Written By: Updated:
December 13,2017