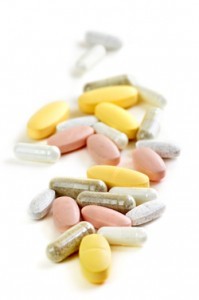 False claims: Six top executives of USPLabs, a Texas-based supplement maker that has sold hundreds of millions of dollars worth of supplements in the United States, have been arrested. Their alleged crime?
False claims that their workout and weight loss supplements, such as Jack3d and OxyElite Pro, are made with natural ingredients. An 11-count indictment was issued against the company by federal officials.
Benjamin Mizer, head of the Justice Department's Civil Division, told a news conference, as reported by NBC News:[i]
"When they found an ingredient they believed was promising, knowing full well how the market for dietary supplements worked, they doctored packaging, labeling, and other paperwork to defraud others about what the product was …

Much of the alleged fraud focused on the defendant's claims that their products were made from natural plant extracts. The truth, as one defendant put it, 'LOL', (the) stuff is completely, 100% percent synthetic'."
Some of USPLabs' products, including the incredibly popular Jack3d, contain 1,3 dimethylamylamine (DMAA). It's often passed off as "geranium extract" on product labels, but Dr. Pieter Cohen, a Harvard professor who studies supplement safety, said "DMAA has nothing to do with nature … [it's] produced in a factory."[ii]
DMAA has amphetamine-like effects in your body, leading to increased heart rate, tremors and, potentially, heart attack. In 2011, two soldiers died after taking DMAA, and it's been banned in at least nine countries, including the United Kingdom and Canada. In the United States, although the U.S. Food and Drug Administration (FDA) has issued warnings about DMAA, it has only limited authority over dietary supplements. I also warned about DMAA in 2013.
117 Supplement Makers Charged With Alleged Fraud and False claims
The USPLabs arrests were part of a larger crack down by federal officials on a number of supplement makers. New Jersey-based Bethel Nutritional Consulting Inc. was among them. The Department of Justice (DOJ) issued a complaint against the company for distributing adulterated and misbranded dietary supplements and unapproved new drugs in the United States.
Some of their products also contained pharmaceutical ingredients including sibutramine, the active ingredient in the now banned obesity drug Meridia. Sibutramine was linked to an increased risk of heart attack and stroke. According to the DOJ:[iii]
"The sweep resulted in civil injunctions and criminal actions against 117 various manufacturers and/or distributors of dietary supplements and tainted products falsely marketed as dietary supplements."
It's estimated that 23,000 people visit U.S. emergency rooms each year because of adverse reactions to supplements, with weight-loss and body-building supplements among the worst offenders. This is actually a relatively small number when you consider that more than half of U.S. adults use dietary supplements. However, it highlights the need to use due diligence and choose your supplements wisely.
Currently, because of the 1994 Dietary Supplements Health and Education Act (DSHEA), supplements can be released onto the market without any safety testing; they require no pre-market approval from the FDA.
DSHEA is actually beneficial for small supplement companies producing high-quality products, and the people who use them; it helps keep safe supplements widely available by minimizing government red tape interfering with consumers choosing natural means to stay healthy. However, for those unscrupulous companies looking to make a quick buck at the expense of your health, the door is wide open.
The DOJ reported that "more proactive enforcement" is planned against supplement makers selling illegal or fraudulent products, but in the meantime you have to tread carefully when walking down the supplement aisle.
Truly Natural Supplements You Can Trust
The feds "sweeping" actions against supplement makers may have you questioning the safety of your favorite brands — and rightly so. However, as Mizer said:[iv]
"We are not here to criticize the entire supplement marketplace. Not every supplement contains an undisclosed ingredient. Not every label lies about what is in the bottle."
Indeed, at The Healthy Back Institute we take the practice of making supplements very seriously. We've been in business for over 12 years because we're passionate about what we do. We're in this to help people put an end to their pain, and we're in it for the long haul, not to make a quick buck.
Our products contain truly natural ingredients, and what you see on the label is what you get; there are no hidden fillers, no illegal additives and certainly no pharmaceutical drugs.
ALL supplements offered by The Healthy Back Institute adhere to FDA Rule 21 CFR 111. This is a set of guidelines called the Good Manufacturing Practices. They address the manufacturing and handling of dietary supplements intended for human use, and are intended to make sure the supplement is safe and you get what is advertised — and nothing else. We follow this law to the letter!
So you know you are getting high-quality products that are free from contaminants, impurities, and pathogens, we randomly submit our supplements to independent 3rd party testing labs. We ALWAYS receive the highest marks for safety and quality (even exceeding our own expectations) in all of the following categories:
Heavy Metals Screen
Multi-Residue Screen
Microbes, Screen
Residual Solvents – Class 1, 2a, 2b, and 3
Perhaps best of all, our supplements are designed to nourish your entire body to fight disease by giving you the nutrition your body requires to heal on its own. When you choose supplements from The Healthy Back Institute, you can trust you're getting only the safest, purest, highest-quality supplements that money can buy.
NEXT UP…
Click Here Now to See Our Bestselling Supplements and Other Solutions
Click Here Now to See Our In-Depth QUALITY ASSURANCE Statement
[i] NBC News November 18, 2015
[iii] NBC News November 18, 2015
[iv] NBC News November 18, 2015