Nearly half of us spend eight hours a day or more sitting in a chair. More than 12 hours a day for nearly half of those!
Of course, your typical desk chair, car seat, or couch doesn't exactly offer wonderful back support, either. No wonder we live in a society where at least 80% of us get back pain at some point!
Fortunately, there's a number of back support products available to help you fight back against back pain caused by poor sitting posture, uncomfortable chairs with lousy back support, and non-ergonomic workspaces.
Imagine getting up from your chair… without groaning from back pain. It's possible with the right support. And we've done the work of testing dozens of products in each of the three main categories of back support products to give you our top recommendations for each.
#1. A Quality Office Chair
If you're spending 8 hours a day sitting at a desk, chair selection is critical. An ergonomic office chair with proper back support can make an unbelievable difference.
The fact of the matter is your body loves motion. It wants to adjust itself constantly, shifting position or moving up to 100 times an hour. Your typical hard office chair or cheap rolling chair doesn't allow for that natural movement, forcing your back to remain stuck in one uncomfortable position for hours while you work or surf the web.
Openness to natural movement is one of the first factors we look for when evaluating office chairs. The chair we recommend offers dynamic counterbalancing, letting you move freely while getting true lumbar support from the hand-upholstered cushions. Its unique design provides posture correction through a flexible seating mechanism allowing for comfortable typing, reading, and relaxing.
Your back deserves a quality chair and for anyone with back pain we recommend you try what we now call the best chair for bad backs.
#2. Supportive Seat Cushions
Where replacing your chair isn't an option, quality back support cushion is the next best option. There are two main types of back support cushions:  posture correcting seat cushions that both improve your posture and take pressure off your spine, and seat cushions that specialize in back pressure relief.
Back support cushions that both relieve back pain and correct posture work by addressing your pelvic position as you sit. This is a whole other level of science past back support pillows that just cushion your butt from a hard chair. Sometimes also called back orthotics, these back support cushions cradle your pelvis and float your spinal system, reducing all-day pressure buildup and auto-correcting slouching or 'perching' sitting positions that can cause upper back pain as well. By modifying your sitting position, posture correcting seat cushions retrain your muscles and spine to support a healthier, pain-free day in your chair.
If the issue is more about pressure buildup as you sit, then you may want to look at a back support cushion dedicated to pressure relief. These back cushions can relieve sciatica, painful sitting, and leg pain. Our favorite pressure-relieving back pain seat cushion offers a tailbone cutout, a contoured surface to reduce pressure on your thighs, and an angled wedge shape to relieve strain on the lower spine.
We've chosen to carry both of these top back support cushions here at the Healthy Back Institute for affordable relief. For less than a month of prescription pain medications, you can have years of solid, lasting comfort that addresses many of the core reasons you get back pain when you sit.
#3. A Back Support Pillow
Poor sitting posture is one of the key reasons for sitting pain. A back support pillow can help you maintain solid sitting posture throughout the day, reducing the amount of back aches and back pain you deal with at the end of the day. Naturally, you don't want to throw just any old cushion behind your back and call it good — you need something properly designed for spinal support and tailored for full-length back support.
We've found the Freedom Back support cushion has the scientific design needed to give your back the support it needs all day long. Plus it's so comfortable and useful that the Healthy Back Institute staff took six out of the first 100 that came in.
One way the Freedom Back separates itself from other back support pillows we've tested is by offering a unique spinal channel to support your back without adding pressure to your spinal column, an anatomically designed contour support for the small of your back, and extra lateral stability to fight the muscle imbalances behind persistent back pain.
In short, this is the Cadillac of back support pillows, and the features mentioned above aren't even the best part! The greatest perk of the Freedom Back support cushion is its built-in massager. You can bring your cushion everywhere for comfort and then flick a switch to enjoy a soothing massage wherever you go.
Giving your back the support it needs throughout the day is critical to fighting back against back pain. Why put up with persistent yet preventable aches and pains? Take a closer look at our recommended back support products and make the choice to live a pain-free life.
Most Popular: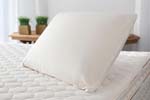 Filed Under:
Articles
Written By: Updated:
November 23,2011