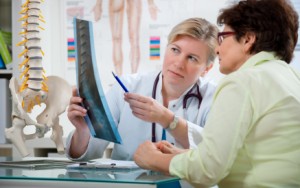 Surgery is never something to rush into, especially when it involves your back and spine. Any qualified physician or surgeon should discuss all the aspects of a surgical procedure before you should even consider it.
There are risks involved with all procedures, even though surgery technology has come a long way. Most surgeons will offer a free consultation, which is the perfect opportunity for you to come prepared with questions. In a perfect world, the surgeon will give you an honest recommendation of whether or not it is right for you. Having said that, getting a second and third opinion is probably a great idea.
The back pain experts here at The Healthy Back Institute all agree that surgery should always be your last resort, after other non surgical treatments have been considered.
What is Arthroscopic Spine Surgery? – Arthroscopic Spine Surgery is a procedure that uses a tube or straw like tool to aid lasers in removing disc material through vaporization. This tool contains a light source, video camera and a lens that enables surgeons to see far more detail than a typical scan or x-ray. This procedure is considered to be minimally invasive compared to other surgeries. This procedure is typically done on an outpatient basis, and most patients can return home just hours after the surgery.
Recovery time will vary based on the depth of the procedure and the pre surgery condition of the patient. Many patients can return to regular daily activity in just a few weeks.
Are You a Candidate for Arthroscopic Spinal Surgery? – Physicians often recommend this procedure to patients suffering from Degenerative Disc Disease, Bulging or Herniated Discs, excessive scar tissue formation and other common spine ailments. For Spinal Stenosis and Spondylolisthesis, a laminectomy may be recommended instead.
It is possible that Arthroscopic Spinal Surgery could provide you with relief. There is no guarantee however as to just how much relief you will get, or how long it will last. Unless your physician has said that you need immediate surgery, you should check out the other non surgical procedures that are available to you.
To see a list of treatments, visit our treatments section of this website or search for you condition by using our search bar.
Filed Under:
Spinal Pain
Written By: Updated:
November 3,2011