3 Ways Your Doctor May Be Infecting You
(And My 4 KEY Pieces of Advice)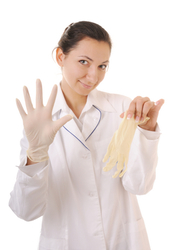 While researching the 12 little-known germiest places to beware of, I discovered something just as alarming:
If you are not cautious and if you don't speak up for yourself, your doctor and other health workers could easily be infecting you … particularly in the following three ways.
In response, I also offer you four important pieces of advice…
1) "Can You Please Put on a NEW Pair of Gloves?"
It would seem to be common sense that a health care worker wearing gloves is safer than those who don't wear them.
But not so fast!
According to a recent study of hand hygiene and glove usage in hospitals, researchers found the use of gloves was strongly linked to significantly worse levels of hygiene.
"Gloves are often used when in contact with bodily fluids or the most infective patients, like MRSA patients," said Dr. Sheldon Stone, lead author of the study. "So in the patient group or the clinical situation where you're more likely to pick up potentially spreadable germs, health care workers are actually less likely to clean their hands afterward."
The level of hand hygiene was even worse in environments where workers were required to wear gloves all the time, particularly before having contact with patients or while assisting high-risk patients.
The good intentions that come from taking preventative measures like wearing gloves are useless if workers don't wash their hands.
So my first piece of advice is to ask your doctor or any health care worker to BOTH wash their hands and change their gloves before handling you or a loved one.
2) "I Insist You Disinfect That Stethoscope, Please!"
Your doctor's familiar stethoscope may also be full of risky germs, according to a summer 2011 study.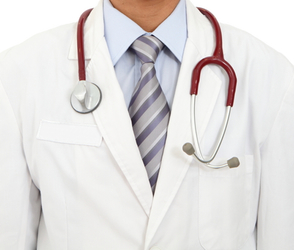 An analysis of 100 stethoscopes at three units discovered 54 samples of Staphylocococcus aureas or methicillin-resistant Staphylocococcus aureas — better known as MRSA — the antibiotic-resistant bug that can be deadly.
When you consider how many other people are touched by those stethoscopes at doctor's offices and hospitals, this contamination starts to make some (unfortunate) sense.
But here is the other frightening statistic: Only 8 out of 100 health professionals — all eight of them nurses — cleaned their stethoscopes before or after seeing a patient! Among the frightening reasons given for germy stethoscopes were forgetfulness, not enough time or being too busy…
My second piece of advice? Insist they disinfect that stethoscope with you watching before it touches you!
3) "Can You Please Remove That Tie?"
You may be seeing fewer male doctors wearing ties at clinics and hospitals, and here is why:
A few years ago, the American Medical Association considered a proposal that would've suggested a new dress code for doctors … thanks to evidence that ties, long sleeved shirts, white coats, and other loose / dangling clothing may be responsible for spreading infections.
This may have been in part a delayed reaction to a 2004 study of medical staffers at a New York hospital that identified the source of bacteria that cause blood infections, pneumonia and other serious diseases: neckties.
Several states have also discussed "dressing down" as a means to prevent the spread of dangerous bacteria. One of these, New York — citing the highest malpractice insurance costs in the nation in their state —  recently endorsed a "prohibition" on health care professionals wearing ties, jewelry, and other clothing to lower the cost of medical malpractice lawsuits.
Also, an article appearing in Missouri Medicine: The Journal of the Missouri State Medical Association cited many more studies linking ties and other clothing to the spread of antibiotic-resistant bacteria in calling for a transition away from ties.
The last sentence in the piece really says it all: Abandoning neckties soon might be considered, like good hand washing, to be among the best practices in the fight to keep patients safe.
DO NOT WAIT for others to pass measures on this for you, though …
My third piece of advice is to ASK if your doctor and other health care providers wear ties and other loose/dangling clothing and to make your own choices accordingly if they do.
So what is my final piece of advice? Read my new FREE report to discover how to safely eliminate the nasty germs invading your body and causing disease and pain as soon as possible…
Canadian Journal of Emergency Medicine
Infectious Disease Special Edition