Ever since the horrific school shooting at the Sandy Hook Elementary School in Newtown, CT, debate has raged on both sides of the gun control issue about the failure to protect our children.
Various proposals to ban assault weapons, ban large capacity magazines and eliminate gun registration "loopholes" seem to be the most politically popular ideas.
Other proposals range from addressing violence in video games to arming teachers in schools.
But is it all one giant red herring? A deliberate attempt to create so much noise around the issue of gun control that no one notices the real danger?
A danger that, if confronted, may tear down many arguments used in the current gun control debate – and threaten major players with deep pockets in the pharmaceutical industry. Players who hold significant influence over politicians in Washington. Players with much to lose.

Are We Missing the Point?
The dangerous issue I'm talking about was raised recently by someone with a close connection to the gun industry, John Noveske, founder of Noveske Rifleworks.
On December 27th, John posted a list of over two dozen violent episodes committed by individuals who were on or recently stopped taking antidepressants, especially Selective Serotonin Reuptake Inhibitors (SSRI) antidepressants, on his company's Facebook page.
It was a list an unnamed friend had forwarded to him. At the end of the list he added a few more names, including this final question, "What drugs was Adam Peter Lanza on, age 20, Killed 26 and wounded 2 in Newtown Ct."
John died alone eight days later in a single vehicle car accident so we may never know his source.
An Inconvenient Truth?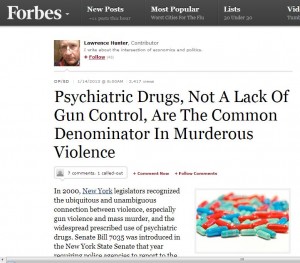 But it's not just recently deceased pro-2nd Amendment gun manufacturers who are raising questions.
Last week, Forbes.com published an Op/Ed article on their website titled "Psychiatric Drugs, Not A Lack Of Gun Control, Are The Common Denominator In Murderous Violence." In his article, respected regular contributor Lawrence Hunter brought up some interesting facts.
Like the preamble to a bill introduced in the New York State Senate in 2000 that recognized the scientifically established connection between psychotropic drugs and violent behavior. That bill got buried in committee.
He also pointed to statistics published by the Citizens Commission on Human Rights International (CCHR) about dozens of school shootings over the past 15 years that were committed in virtually every case by shooters who were either on or in withdrawal from psychiatric drugs:
St. Louis, Missouri — January 15, 2013: 34-year-old Sean Johnson walked onto the Stevens Institute of Business & Arts campus and shot the school's financial aid director once in the chest, then shot himself in the torso. Johnson had been taking prescribed drugs for an undisclosed mental illness.
Snohomish County, Washington — October 24, 2011: A 15-year-old girl went to Snohomish High School where police alleged that she stabbed a girl as many as 25 times just before the start of school, and then stabbed another girl who tried to help her injured friend. Prior to the attack the girl had been taking "medication" and seeing a psychiatrist. Court documents said the girl was being treated for depression.
Planoise, France — December 13, 2010: A 17-year-old youth held twenty pre-school children and their teacher hostage for hours at Charles Fourier preschool.  The teen was reported to be on "medication for depression".  He took a classroom hostage with two swords. Eventually, all the children and the teacher were released safely.
Myrtle Beach, South Carolina — September 21, 2011: 14-year-old Christian Helms had two pipe bombs in his backpack, when he shot and wounded Socastee High School's "resource" (police) officer. However the officer was able to stop the student before he could do anything further.  Helms had been taking drugs for attention deficit hyperactivity disorder and depression.
Huntsville, Alabama — February 5, 2010: 15-year-old Hammad Memon shot and killed another Discover Middle School student Todd Brown.  Memon had a history for being treated for ADHD and depression.  He was taking the antidepressant Zoloft and "other drugs for the conditions." He had been seeing a psychiatrist and psychologist.
Kauhajoki, Finland — September 23, 2008: 22-year-old culinary student Matti Saari shot and killed 9 students and a teacher, and wounded another student, before killing himself.  Saari was taking an SSRI and a benzodiazapine. He was also seeing a psychologist.
Fresno, California — April 24, 2008: 17-year-old Jesus "Jesse" Carrizales attacked the Fresno high school's officer, hitting him in the head with a baseball bat.  After knocking the officer down, the officer shot Carrizales in self-defense, killing him.  Carrizales had been prescribed Lexapro and Geodon, and his autopsy showed that he had a high dose of the antidepressant Lexapro in his blood that could have caused him to be paranoid, according to the coroner.
Dekalb, Illinois — February 14, 2008: 27-year-old Steven Kazmierczak shot and killed five people and wounded 21 others before killing himself in a Northern Illinois University auditorium. According to his girlfriend, he had recently been taking Prozac, Xanax and Ambien. Toxicology results showed that he still had trace amount of Xanax in his system. He had been seeing a psychiatrist.
Jokela, Finland — November 7, 2007: 18-year-old Finnish gunman Pekka-Eric Auvinen had been taking antidepressants before he killed eight people and wounded a dozen more at Jokela High School in southern Finland, then committed suicide.
Texas — November 7, 2007: 17-year-old Felicia McMillan returned to her former Robert E. Lee High School campus and stabbed a male student and wounded the principle with a knife.  McMillan had been on drugs for depression, and had just taken them the night before the incident.
Cleveland, Ohio — October 10, 2007: 14-year-old Asa Coon stormed through his school with a gun in each hand, shooting and wounding four before taking his own life. Court records show Coon had been placed on the antidepressant Trazodone.
Sudbury, Massachusetts — January 19, 2007: 16-year-old John Odgren stabbed another student with a large kitchen knife in a boy's bathroom at Lincoln-Sudbury Regional High School. In court his father testified that Odgren was prescribed the drug Ritalin.
North Vernon, Indiana — December 4, 2006: 16-year-old Travis Roberson stabbed another Jennings County High School student in the neck, nearly severing an artery. Roberson was in withdrawal from Wellbutrin, which he had stopped taking days before the attack.
Hillsborough, North Carolina — August 30, 2006: 19-year-old Alvaro Rafael Castillo shot and killed his father, then drove to Orange High School where he opened fire. Two students were injured in the shooting, which ended when school personnel tackled him. His mother said he was on drugs for depression.
Chapel Hill, North Carolina — April 2006: 17-year-old William Barrett Foster took a shotgun to school and took a teacher and a fellow student hostage at East Chapel Hill High School. After being talked out of shooting the hostages, Foster fired two shots through a classroom window before fleeing the school on foot. Foster's father testified that his son had stopped taking his antidepressants and antipsychotic drugs without telling him.
Red Lake, Minnesota — March 21, 2005: 16-year-old Jeff Weise, on Prozac, shot and killed his grandparents, then went to his school on the Red Lake Indian Reservation where he shot dead 5 students, a security guard, and a teacher, and wounded 7 before killing himself.
Greenbush, New York — February 2004: 16-year-old Jon Romano strolled into his high school in east Greenbush and opened fire with a shotgun. Special education teacher Michael Bennett was hit in the leg. Romano had been taking "medication for depression". He had previously seen a psychiatrist.
Red Lion, Pennsylvania — February 2, 2001: 56-year-old William Michael Stankewicz entered North Hopewell-Winterstown Elementary School with a machete, leaving three adults and 11 children injured. Stankewicz was taking four different drugs for depression and anxiety weeks before the attacks.
Ikeda, Japan — June 8, 2001: 37-year-old Mamoru Takuma, wielding a 6-inch knife, slipped into an elementary school and stabbed eight first- and second-graders to death while wounding at least 15 other pupils and teachers. He then turned the knife on himself but suffered only superficial wounds. He later told interrogators that before the attack he had taken 10 times his normal dose of antidepressants.
Wahluke, Washington — April 10, 2001: Sixteen-year-old Cory Baadsgaard took a rifle to his high school and held 23 classmates and a teacher hostage. He had been taking the antidepressant Effexor.
El Cajon, California — March 22, 2001: 18-year-old Jason Hoffman, on the antidepressants Celexa and Effexor, opened fire on his classmates, wounding three students and two teachers at Granite Hills High School. He had been seeing a psychiatrist before the shooting.
Williamsport, Pennsylvania — March 7, 2001: 14-year-old Elizabeth Bush was taking the antidepressant Prozac when she shot at fellow students, wounding one.
Oxnard, California — January 2001: 17-year-old Richard Lopez went to Hueneme High School with a gun and shot twice at a car in the school's parking lot before taking a female student hostage.  Lopez was eventually killed by a SWAT officer.  He had been prescribed Prozac, Paxil and "drugs that helped him go to sleep."
Conyers, Georgia — May 20, 1999: 15-year-old T.J. Solomon was being treated with the stimulant Ritalin when he opened fire on and wounded six of his classmates.
Columbine, Colorado — April 20, 1999: 18-year-old Eric Harris and his accomplice, Dylan Klebold, killed 12 students and a teacher and wounded 26 others before killing themselves. Harris was on the antidepressant Luvox.  Klebold's medical records remain sealed. Both shooters had been in anger-management classes and had undergone counseling.  Harris had been seeing a psychiatrist before the shooting.
Notus, Idaho — April 16, 1999: 15-year-old Shawn Cooper fired two shotgun rounds in his school, narrowly missing students. He was taking a prescribed antidepressant and Ritalin.
Springfield, Oregon — May 21, 1998: 15-year-old Kip Kinkel murdered his parents and then proceeded to school where he opened fire on students in the cafeteria, killing two and wounding 25. Kinkel had been taking the antidepressant Prozac. Kinkel had been attending "anger control classes" and was under the care of a psychologist.
Blackville, South Carolina — October 12, 1995: 15-year-old Toby R. Sincino slipped into the Blackville-Hilda High School's rear entrance, where he shot two Blackville-Hilda High School teachers, killing one. Then Toby killed himself moments later. His aunt, Carolyn McCreary, said he had been undergoing counseling with the Department of Mental Health and was taking Zoloft for emotional problems.
Chelsea, Michigan — December 17, 1993: 39-year-old chemistry teacher Stephen Leith, facing a disciplinary matter at Chelsea High School, shot Superintendent Joseph Piasecki to death, shot Principal Ron Mead in the leg, and slightly wounded journalism teacher Phil Jones. Leith was taking Prozac and had been seeing a psychiatrist.
Houston, Texas — September 18, 1992: 44-year-old Calvin Charles Bell, reportedly upset about his second-grader's progress report, appeared in the principal's office of Piney Point Elementary School. Bell fired a gun in the school, and eventually wounded two officers before surrendering. Relatives told police on Friday that Bell was an unemployed Vietnam veteran and had been taking anti-depressants.
Winnetka, Illinois — 20 May 1988: 30-year-old Laurie Wasserman Dann walked into a second grade classroom at Hubbard Woods School in Winnetka, Illinois carrying three pistols and began shooting children, killing an eight-year-old boy, and wounding five others before fleeing. She entered a nearby house where she shot and wounded a 20-year-old man before killing herself. Dann had been seeing a psychiatrist and subsequent blood tests revealed that at the time of the killings, she was taking the antidepressant Anafranil.
(Statistics from: http://www.cchrint.org/2012/07/20/schoolshootings-drugs/)
Who's Missing?
Notably missing from this list are Seung-Hui Cho, who killed 32 at Virginia Tech in 2007, and Adam Lanza, perpetrator of last month's tragic shooting at Sandy Hook Elementary.
We still don't know if these shooters from the most notorious school shootings of the past several years were on or in withdrawal from antidepressant or other psychiatric drugs. For whatever reason, the shooters' medical case records have been carefully guarded even though both are now deceased.
(We do know that Aurora, CO theater shooter James Holmes was 'under the care' of a psychiatrist before his shooting rampage. Meaning in today's parlance he was probably on one or more psychiatric drugs, too. But this can't be confirmed as his records also appear to have been 'sealed.')
Even the FDA Recognizes a Problem
Mr. Hunter also quoted statistics of 12,755 reports to the FDA's MedWatch system of violent side effects from psychiatric drugs between 2004 and 2011. These side effect reports included 1,231 cases of homicidal ideation/homicide, 2,795 cases of mania and 7,250 cases of aggression.
He went on to remind us that the FDA itself admits that only between one to ten percent of all side effects are ever reported to their system. Meaning there were likely at least 127,000 incidents – that's over 15,000 incidents per year in their most optimistic scenario.
As you can imagine, Mr. Hunter's credible article took the Internet by storm soon after publication early Monday morning, January 14th. The link was rapidly shared around the world. News was getting out.
Until a few hours later, when anyone attempting to read his article got this instead: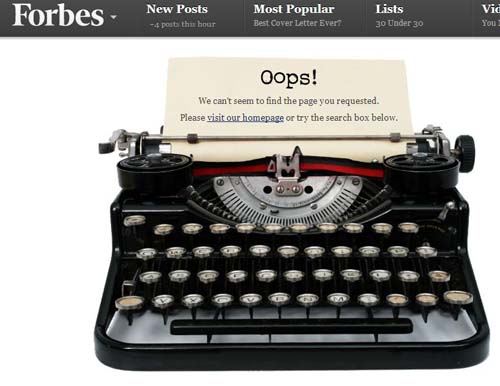 Are murders linked to antidepressant drugs?
After John Noveske's untimely death I started digging for the truth. And since Mr. Hunter's article suddenly disappeared last week I've been digging even harder. And what I've shared above is just a small part of what I've discovered so far.
One site I ran across lists over 4,800 documented news stories of mostly criminal violent acts committed by people on or withdrawing from SSRI antidepressants like Prozac, Zoloft and Cymbalta.
I know many people believe antidepressants help. So many believe they help that more than 1 in 10 Americans over age 12 now take at least one according to CNN. We're talking a 400% increase since the late 1980s.
Which leads me to ask, are antidepressants and other psychiatric drugs responsible for violent – even murderous – rampages? Or is the uptick in violent episodes across our country in recent decades simply an unrelated fluke?
I'd like to know what you think.
Do YOU think there is an antidepressant drug – murder connection?
Is there a connection between antidepressant drugs and violence? What does the evidence tell you?
Tell me in the comments below.
Do you or a loved one take an antidepressant? Have you taken one and stopped? Has a tendency or sudden urge for violence ever occurred since taking them?
I'd really like to hear about it below… let's get to the bottom of this together.
If you are currently on any form of antidepressant, PLEASE work with your medical provider before and while attempting to wean yourself from the drug. Many side effects (besides violence) are associated with antidepressant withdrawal.
If you haven't started taking antidepressants yet but are looking for natural alternatives, some effective supplements to consider include Omega-3s, SAMe (S-Adenosylmethionine), Valerian and St. John's Wort.
Filed Under:
Depression
Written By: Updated:
February 4,2013