If you are tired of struggling with lower back pain, sciatica or any other form of back pain, you absolutely must read The 7 Day Back Pain Cure.
Over 100,000 people from all over the world have used the "no-nonsense", practical tips uncovered in this best selling book.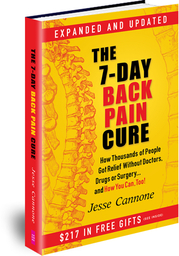 For a limited time you can get the free pdf (online version) of the book right now, so you can start implementing many of the pain relief techniques right away.
If you prefer a physical copy of the book to be mailed to you, click here. You can still get the book for free, you just have to cover a small shipping charge for us to mail it out to you.
Just tell us which email you would like us to send the book pdf to and you will get it it just a few seconds.

Download the 7 Day Back Pain Cure – FOR FREE!