Doing It The Natural Way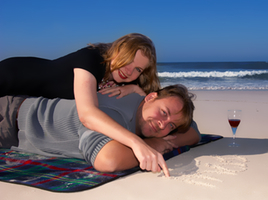 Low libido is a common condition among both sexes. Studies have found more than 40 percent of women complain about having low sexual desire at some point in their lives, while others report about 20 percent of all men have a low sex drive.
There's plenty of reasons why most of you aren't feeling that connection: emotional issues (out-of-control stress, low self-esteem, depression); a biological change (pregnancy, menopause); or things like fatigue or poor communication skills.
For the libido to work naturally, easily, and pleasurably as Mother Nature intended for most folks, the emotional, physical and interpersonal must work in concert to make a love connection possible on a consistent basis.
Unfortunately, many men reach for "instant" help in the form of a drug and come away feeling anything but love, not to mention a slew of side effects like a sudden decrease or loss of hearing or sight — think Viagra.
Unless there's a serious medical obstacle in the way like cancer, however, couples can resolve many of their sexual problems by looking at the broader picture, and addressing all the underlying reasons why their libido has taken an extended vacation, something that no medicine — not even a little blue pill — can "cure."
Some very safe and effective ways to boost your libido naturally:
1. Stop Smoking
If you haven't stopped smoking, for the sake of your libido and your sore back, you're long overdue.
2. Eat Healthy Foods
Replace the sugary and processed foods with healthy foods. Don't miss The 7 WORST Foods that Cause Aging for the most important insights on healthy eating!
3. Use Your Imagination
Much of your libido resides between your ears. Share your fantasies without judgment, and you'll feel better about trying new things in new ways and in fun places you may never have considered before.
4. Learn Massage
Nothing can set the mood for an evening of pleasure better than a massage. Besides, how many libido-enhancing techniques generate such an abundance of pleasure like a massage, whether you're giving or receiving one? (Don't miss The 7 Proven Benefits of Massage!)
5. Cut Back on Alcohol
Drinking a small amount of alcohol such as a glass of wine per day can be helpful, but too much is not healthy in many ways, including impacting your libido.
6. Manage Your Stress
Engage in powerful techniques like yoga or meditation to help you manage your stress without the need for a prescription drug. If stress is a big issue in your life, I strongly encourage you to try Mind Aerobics, a simple but VERY powerful stress-elimination method…
7. Accentuate the Scents
A number of scents from natural sources — think lavender, cinnamon, orange and jasmine — can enhance the libido, but be sure to avoid synthetic scents and air fresheners that do nothing more than harm your health. Seek out all-natural scents, such as essential oils.
8. Supplement Your Health
Even if you're making the best choices, you still may need certain supplements to make up for the nutritional deficits in the foods you eat.
When it comes to energy and performance, one extreme … and extremely common … deficiency people have is in CoQ10. I highly recommend you discover… The Top 10 Reasons to Supplement with Coq10
And for men particularly who may experience "low libido," I very highly recommend Dr. Sears' (appropriately named!) Primal Max…
MEN … Ditch the Viagra and Other Risky & Expensive Pharmaceuticals…
"I have had the energy to have sex three times in one day, WOW. That has not happened in years.
Thanks Primal Max. Oh, by the way I am 62."
–J.K., Birmingham, AL
9. Make It a Priority
Nurturing your libido means giving your love life top priority and making quality time for it. Nothing kills your libido faster than running out of time for intimacy.
10. Get Your Exercise
Aside from being "fit" for the fun, studies have shown that regular exercise greatly increases the libido! For all those excuses you've made about not having the time to incorporate physical activity into your daily routine, you don't need to invest in a gym membership, an exercise machine or even an hour a day to get moving on a exercise program.
In fact, if you have 4 minutes to spare every day, you can achieve optimal health and fitness — and boost your libido — by following The 4-Minute NO EXCUSE Workout...
Filed Under:
Libido
Written By: Updated:
December 17,2011