Congratulations! Check Your Email
Inbox Now for Your Report!
You have successfully signed up for the free "Live Pain Free" newsletter and the free "25 Most Dangerous Pieces of Common Health Advice" report…
Check the inbox of the email you signed up with… your report is available from us there!
(If you don't see it in your inbox, check your bulk/spam folder… and please be sure to add our email address to your email contacts list!)
But ONE MORE THING… if you or someone you care about suffers from any form of back or neck pain, click here now to get your FREE copy of the #1 bestseller…
The 7 Day Back Pain Cure…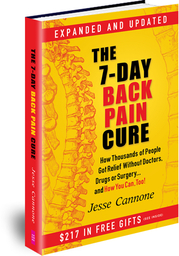 Over 200,000 copies of The 7 Day Back Pain Cure have been sold… helping people
with even the most "hopeless" cases of back & neck pain, sciatica, herniated discs and
more overcome their pain FOR GOOD… but today you will get a copy FREE!
Written By:
Updated:
August 24,2012