Heal-n-Soothe ®

See Customer Comments
Retail Price: $59.00
In stock - Ships today if you order before 1pm CST
Convenience and savings of
$10 OFF each bottle

Place Your Order By Phone 1(800) 216-4908
HOW CAN Heal-n-Soothe ® HELP?
This pain-reducing miracle helps you achieve lasting relief without potentially dangerous or toxic chemicals or side effects.
Heal-n-Soothe® is a combination of the most powerful natural anti-inflammatory and pain relieving ingredients that work together synergistically to quickly calm inflammation and reduce pain throughout the entire body.
We've combined the incredible systemic enzymes, plus several more pain-fighting nutrients to give you the most powerful pain-fighting effects straight from mother nature herself.
Heal-n-Soothe® is the strongest and highest potency proteolytic enzyme formulation available, and it is the only natural Systemic Proteolytic Enzyme formulation available with no dangerous fillers or preservatives.
Made with
MOTHER NATURE'S OWN INGREDIENTS

Proteolytic Systemic Enzymes
Research indicates these enzymes work throughout your entire body to help it balance inflammation, breakdown scar tissue, cleanse the blood and also boost cardiovascular, respiratory and immune function.

Bromelain
This special natural compound, which is extracted from pineapple, contains several proteolytic enzymes that have been shown to short-circuit multiple pain pathways in the body.
It has been studied extensively since its discovery in 1957 and hundreds of studies have shown it to reduce inflammation, reduce and prevent swelling and remove waste and toxins from the blood.

Turmeric Extract
This extract is taken from the dried root of the plant and it has been used to treat a wide range of ailments for thousands of years.
Studies have shown it balances inflammation by blocking both the COX-2 and 5-LOX enzymes which create pain. In addition, Turmeric's antioxidant powers work to seek out and destroy free radicals in the body which contribute to pain and swelling.

Papain
This contains a wide range of proteolytic enzymes and works by breaking down proteins. In studies it has been shown to be effective for numerous health concerns. Papain has also been shown to support the immune system.

Boswellia Extract
One of the most widely used herbs in Indian medicine, it has been used for centuries by traditional Indian healers for pain and inflammation. Hundreds of studies prove its effectiveness and also supports healthy blood circulation.

Rutin
Found naturally in a variety of plants and fruits, this flavonoid has been shown to have a strong anti-inflammatory effect due to it's powerful anti-oxidant activity.

Mojave Yucca Root
This root contains yuccaols and resveratrol which have been studied to potentially balance inflammation. Additionally, yucca may have antioxidant activity. Yucca may be beneficial for anti-inflammatory support, immune support, as well as digestive support.

Ginger Extract
Used for over 2,500 years in Asia, Ginger has been used to treat nausea and to reduce pain and inflammation. It works by decreasing prostaglandins, which cause you to feel pain.

Devil's Claw
Another time-tested natural pain reducer, Devil's Claw has been used for hundreds if not thousands of years in Africa. Numerous studies have proven it's effectiveness in reducing pain and balancing inflammation.

Citrus Bioflavanoids
These nutrients aid in the absorption of vitamins and act as important anti-oxidants. Citrus Bioflavanoids inhibit collagenase and elastase, the enzymes responsible for the breakdown of connective tissue. In addition to protecting connective tissues, they also protect against free radical damage.
WHAT OUR CUSTOMERS ARE SAYING...
"It has given me my life back!"

~ Theresa Klein
"This is one of the best formulated products that I have seen"

~ Dr. Robert Thompson, MD
"I am Heal-n-Soothe's biggest fan!"

~ Alex Mitchell
"This stuff is like God in a bottle!"

~ Greg Moorman
"This stuff saved my life, I have been able to work!"

~ Ruth Novoa
Previous
Next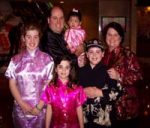 Mom Of 4 Ditches Her Liver-Damaging Celebrex For Heal-n-Soothe® And LOVES The Results!
"I've had orthopedic problems since I was 7 years old. I figured up that over the last 31 years (I'm 38 now), I've had a total of 14 surgeries---6 of them knee surgeries and 1 foot surgery---plus a broken pelvis and sprained SI joint from a past car accident.
After the foot surgery 10 years ago, the doctor decided I would benefit from taking Celebrex.
Recently, after being diagnosed with severe arthritis in one knee and moderate arthritis in my foot, the doctor doubled my dosage of Celebrex. I couldn't discern any improvement on the new dosage. Also, I began getting concerned about the possibility of the prolonged usage of this drug causing liver damage.
I have now been taking Heal-n-Soothe
®
for 30 days, and I feel the same as I did while taking the double dosage of Celebrex. I have hope that after more time on Heal-n-Soothe
®
I will feel even better---and I like that right now I'm getting at least the same, if not yet better, anti-inflammatory effect from natural enzymes, rather than from a chemical that could potentially harm my liver."
~ Kaye Whitlock stay-at-home Wife & Mom to 4 kids
Disclaimer: Results not typical. Your specific results may vary.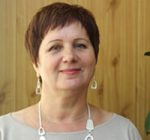 WOW! Huge difference! I stopped taking painkillers!
"All I can say is a big WOW and thank you.  I have only been taking them for 4 or 5 days, but have noticed an huge difference.  I stopped taking my strong painkillers, Co Codemal (the strongest) and Dihydrocodine, which I was taking every day and the full limit allowed in a day. I feel "almost" normal again." 
~ Angela Jaggs (England, UK)
Disclaimer: Results not typical. Your specific results may vary.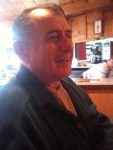 I Noticed a Difference the First Day
"The first day I took Heal n Sooth I noticed a difference the next day and by the time the bottle was gone I was suffering very little pain. This is the kind of product that the health care system needs to adopt in treating such problems as aches and pains of inflammatory caused problems instead of the big pharma poison.  Heal n Soothe is an amazing product and it treats the problem not only the symptoms. 

I can once again touch the floor with my palms of my hands doing the exercises I used to do and I jump out of bed instead of rolling out with groans and moans.  It is still working even though I have not had any for over a week.  Big pharma poison could never do anything like this, they are criminals for putting profit above health.  Any problem I have I will research your products first!"
~ Robert Miles
Newfoundland / Labrador, Canada
Disclaimer: Results not typical. Your specific results may vary.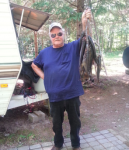 "It's like a wish come true."
Disclaimer: Results not typical. Your specific results may vary.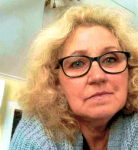 "Heal-n-Soothe has helped me live a vibrant and active life"
I would first like to take the time to start out by thanking God for directing my path to the HBI website. For the last couple of years I have been dealing with pain in both knees, to the point that I even went to the emergency room 2 years ago because my left leg swelled and the pain was unbearable. I had an ultra sound to rule out any blood clots. The end result was inflammation and arthritis. I definitely did not want to take prescription meds so I stayed off my feet and iced. I admit I took aspirin and did get some relief but I knew I could not stay on aspirin. I changed my diet and added turmeric 750 mg 2x a day. I went for a follow up with my doctor and needless to say she was upset I went to the ER and told me to take another OTC twice a day. I couldn't believe she wanted me to take that. I will say she did have me take some connective tissue supplement that I did not see much results. The following year my right knee was hurting to the point I just didn't want to move because I was in so much pain. I decided I would go to the orthopedic doctor who did some laparoscopic surgery on that knee about 15 years ago. He took X rays and said its arthritis and wrote out a prescription. I took the script and tore it up. I iced and took aspirin. I started doing some research and I realized the pain I was having in my right knee was more like tendonitis. I went on youtube for hints on how to do some physical therapy. I did find some helpful techniques, in the mean time I used heating pads, all kinds of rubs, and just kept moving. I couldn't sit for any length of time before I just got stiff and it was hard to get moving to be sedentary. I lead a very active life so every chance I would get to do research on Gods giving planet that provides for our needs with natural herbs I would be looking. I saw many herbs that I could use but I would have a counter pack of  herbs and not knowing how to mix them together. I just prayed there was someone out there that God had given the talent to get it all in one capsule and low and behold during my research the product Heal and Soothe popped up. I read Jesses story and I had nothing to lose but pain if it worked, it was a money back guaranteed what have you got to lose. I received Heal and Soothe and I started taking it right away that night. I took 6 pills that 1st night and in the morning took 3 more. I did that for one more day and the results were remarkable. I have been feeling so good and I take 3 pills every morning when I wake up. I can truly say that Heal and Soothe has been a God send to me. I read the newsletters I get and it's great to see how many people want to live a potential drug free life. I'm not against medicine but I always look for alternatives. I tell everyone I know and meet that complains about pain that Heal and Soothe has helped me live a vibrant and active life. I have bought some other products such as the rub for those days I really push myself and to share it with others. I could go on and on but I will let you be the judge for yourself. Thank you Jesse for pursuing a natural way to health. PS: Just received my blood results and I was tested for inflammation, I am happy to report there are no signs of inflammation. My doctor said everything was spot on.
Disclaimer: Results not typical. Your specific results may vary.
FREQUENTLY ASKED QUESTIONS
Please Note: Persons who suffer from medical conditions or who are taking medications should consult their physician prior to taking this product. This product may thin the blood and may not be appropriate for all persons. Do not take this product if you know or suspect that you are allergic to pineapple, papaya, or any ingredients in this product. As with all dietary supplements, those who are pregnant or nursing should consult their physician prior to taking this product.
If you are pregnant, lactating, a hemophiliac, have an ulcer, are taking blood thinners or anti-coagulants (such as Coumadin, Heparin and Plavix), do not take Heal-n-Soothe without the supervision of your doctor or healthcare provider. Discontinue use 2 weeks prior to surgery.
*The statements made regarding this product have not been evaluated by the Food and Drug Administration. The efficacy of these products has not been confirmed by FDA-approved research. These products are not intended to diagnose, treat, cure or prevent any disease.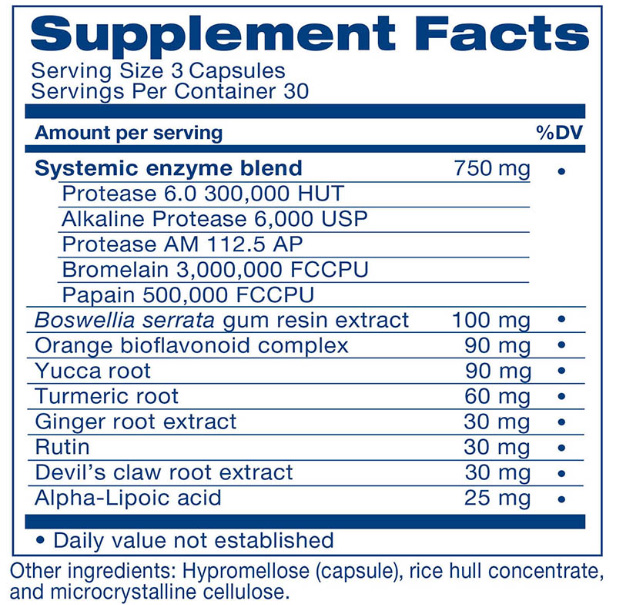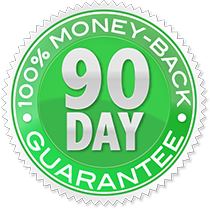 90-Day
100% No Risk
Money Back Guarantee
We guarantee you'll love Heal-n-Soothe or we'll refund your money.
If you're not happy for any reason, simply return Heal-n-Soothe within 90 days of your purchase date for a full refund, less shipping. No questions asked.
For Single Bottle Returns
Simply return your bottle, even if it's completely empty, and you'll receive your full purchase price, excluding shipping.
For Multi Bottle Returns
Return all your bottles and you'll receive a prorated amount based on the number of unopened bottles returned, excluding shipping.