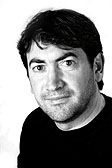 Steve is the co-founder and product development specialist at The Healthy Back Institute®. From the beginning, Steve has been integral in the development and testing of new products, starting with the best-selling Lose the Back Pain® System which has helped more than 65,000 back pain sufferers in over 100 countries.
A nationally recognized sports massage therapist and post-rehab specialist, Steve has helped numerous world-class athletes return to the field or track after an injury and continue to excel. Today he enjoys the challenge of helping a more diverse group of people reach their goals, whether it's to end pain, improve personal fitness or reach whatever goal is in front of them.
Although the Healthy Back Institute® is now an Inc. 500 company, Steve continues to take a hands-on role in supporting our products, surprising some of our callers with his personal involvement. It's Steve's way of keeping a finger on the pulse of our clients' needs and ensuring we deliver the very best natural pain relief and health improvement products available anywhere.
When he's away from the office you'll likely find Steve mountain biking, advancing his skills in Jujitsu, or digging into the history of ancient civilizations in search of ancient yet mostly forgotten knowledge. Steve's also an insatiable reader, always quick with a book recommendation (or two… or three!).
Among his favorite recommendations are:
Switch: How to Change Things When Change is Hard by Chip Heath & Dan Heath
Outliers: The Story of Success by Malcolm Gladwell
Healing and Recovery by Dr. David R. Hawkins
The Trick to Money Is Having Some by Stuart Wilde
Virus of the Mind: The New Science of the Meme by Richard Brodie
Married and proud father of one daughter, Steve still calls central Maryland home, not far from the original headquarters of the Healthy Back Institute®.
Favorite Quote:

"In order to do something you've never done you need to become someone you've never been."
–Anonymous
Written By:
Updated:
August 18,2011