Dozens of Health Problems Are Caused By
This One Simple "Thing"…by Dr. Mark V. Wiley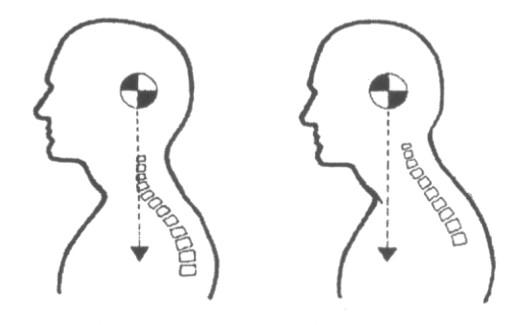 Consider, for a moment, this list of 10 ailments.
Tempero-mandibular joint (TMJ) dysfunction
"Knots" in the back of the neck
"Rocks" in the shoulders
"Sore" chest muscles
General irritability
Poor sleep
Chronic "achy" feeling all over
Numbness or tingling in the arms and/or hands
Trigeminal neuralgia (facial pain)
Did you know that all of them could be caused by (or stem from) the same underlying condition? Can you guess what it is?
The answer is Forward Head Posture (FHP). That's right, all 10 problems are associated with the same underlying cause.
Forward Head Posture is one of the most common postural problems in our so-called "modern" society. In actuality, it is the modern lifestyle that is responsible for it-as we'll see in a minute. In essence, FHP is the result of either repetitive forward head movement, or the carrying or holding of the head in a position where the ears are forward of the shoulder plum-line.
Proper postural alignment finds ankles, knees, hips, shoulders, and ears all falling along the same vertical line. The relatively heavy head must directly rest on the neck and shoulders, like a golf ball on a tee. Yet, FHP finds the head sticking out, forward of the shoulders, with the ears in line with the chest or front of the deltoids.
Forward Head Posture and Back Pain … Learn more here… 
---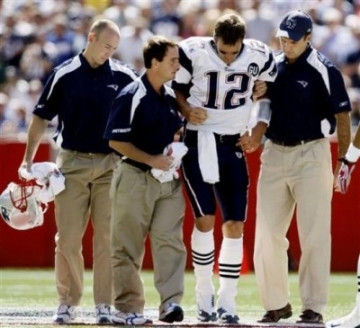 What Pain Cream Do You Find
In NFL Locker Rooms?
Pro football players in the NFL have a physically damaging job. They earn high-salaries by tearing up their bodies week after week on the field.
The athletic trainers are the folks who care for them and are charged with the responsibility of keeping these engines of the billion-dollar football industry working.
No group of people is more familiar with what works and what doesn't work to treat nagging aches, pains and sprains than these trainers.
Just ask Ronnie Barnes, President of the Professional Football Athletic Trainers Society…
"It's a big job, because football is a collision sport," he says. "There are lots of injuries to the musculoskeletal system. Lots of illnesses."
"Athletes should not be treated any differently than regular patients, except that in sports, there is a real sense of urgency for answers. Because once a player gets injured, in about six days, there's another game day."
So what does Ronnie Barnes use to treat the aches and pains of his players? The same formula available to you in Rub-On-Relief. IN fact, he says it's "the most effective ointment we have used to combat pain, sprains, strains, arthritis, stiffness, tendonitis and impact contusions.
"We are able to substitute NSAIDs, aspirin, ibuprofen and Naproxen without the risk of possible side-effects to the players."
Click here to read more about the powerful pain cream used in NFL locker rooms that gives you pain-relief without a prescription.