Rub On Relief ®

See Customer Comments
Retail Price: $39.95
In stock - Ships today if you order before 1pm CST
Convenience and savings of
$15 OFF each tube

Place Your Order By Phone 1(800) 216-4908
HOW CAN Rub On Relief ® HELP?
No matter what your "grin-and-bear-it" pain is… now you can feel relief in minutes. Just rub it in… feel a pleasant tingle of the ingredients penetrating your skin and then… BAM! Soothing relief.
Rub On Relief® is the ONLY topical pain cream to ATTACK and reduce the most common types of pain your body throws at you.
Contains only ingredients with a safe track record and no chemicals, preservatives or toxic junk. NO stomach upset. NO dangerous toxins.
It is so safe you can use it on your children or grandchildren age 10 and up.
Made with
MOTHER NATURE'S OWN INGREDIENTS

Cetyl Myristoleate or CMO
This fatty acid acts as a "moisturizer" on dry and brittle joints. It cushions the joints and repairs cell membranes.
CMO penetrates directly into your muscles, tissues, tendons and joints to quickly relieve inflamed joints and muscles.
Rub-On-Relief® is endorsed by the estate of Harry W. Diehl, the National Institute researcher who developed Cetyl Myristoleate.

Methylsulfonylmethane or more commonly MSM
It's a naturally occurring nutritional sulfur. MSM makes the body's cells more permeable which allows nutrients to flow in and out.
It's known among doctors as "The Natural Solution to Pain".
That's because it works two ways to naturally relieve your pain.
First, it blocks the "c" pain nerve fibers from delivering their chronic pain message to your brain. Secondly, MSM decreases swelling and inflammation often the cause of painful flare-ups.

White Willow Extract
White willow extract contains salicin (salicylic acid), the active ingredient in aspirin. Salicin is also known as "Mother Nature's Aspirin." White willow extract is known as an effective anti-inflammatory and analgesic (pain-reliever). It helps relieve aches, pains, and tension headaches.1

Magnesium Sulfate
Perhaps there's nothing more painful than sudden painful muscle spasms. Well there's nothing more fast-acting at stopping muscle spasms and twitching than this vital mineral compound.2

Arnica Flower Extract
For centuries, European herbalists relied on Arnica flowers to help decrease pain and swelling. Studies show arnica also helps lower pain levels and reduce bruising.3 Arnica is also used to help patients deal with pain after specific surgeries.4

Curcumin C3 Reduct®
Curcumin C3 Reductsup®5 is a patented form of the effective natural anti-inflammatory curcumin (turmeric). Scientists isolated and extracted the tetrahydrocurcuminoids (THCS) — the metabolites that give curcumin its anti-inflammatory power — from the root. Then, they turned this extract into a highly concentrated form. The result? Improved bioavailability, greater absorption, and better pain-relief.

Boswellia
Also known as frankincense (one of the gifts the three wise men gave Jesus), Boswellia comes from the Boswellic tree found in parts of Africa and Asia. Indian tribes have used it as a natural healer for over 3,000 years. Studies show boswellia relieves inflammation by switching off 5-LOX — the body's "pain enzyme."7

Lemon and Lime Oil
Lemons and limes are known for their powerful antiseptic and antioxidant properties. These two citrus oils also give Rub-on-Relief® a non-medicinal, pleasant smell that's not overpowering.8 9

Calendula
Calendula is a plant that's been used traditionally as a medicinal herb. Calendula contains a bioactive compound called sesquiterpenoids. Sesquiterpenoids has been found to be antimicrobial and have anti-inflammatory properties.10

Peppermint Leaf Oil
Peppermint leaf oil is an ancient herbal medicine used in Europe and the Middle East to rapidly provide cool relief to aching muscles. Peppermint leaf oil can also help relieve tension headaches, pain, irritability, and increase overall wellbeing. What's more, peppermint leaf oil actually tricks the body with its cooling touch. It sends a cooling pleasing sensation to your brain that thwarts the stinging heat of inflammation.

Camphor Natural Gum
Camphor provides a pleasant warming sensation. It's the perfect contrast to the cool relief provided by the peppermint leaf oil. The warm/cool sensation of camphor and peppermint leaf oil will feel amazing on any sore joint or muscle.

Plumeria Oil
Plumeria Oil is said to be derived from the flowers of the "Tree of Life." It has aromatherapeutic properties and can help calm your mind, body and soul.
---
1 Shara M, Stohs SJ. Efficacy and Safety of White Willow Bark (Salix alba) Extracts. Phytother Res. 2015 Aug;29(8):1112-6. doi: 10.1002/ptr.5377. Epub 2015 May 22. Review. PubMed PMID: 25997859.
2 Do S-H. Magnesium: a versatile drug for anesthesiologists. Korean Journal of Anesthesiology. 2013;65(1):4-8. doi:10.4097/kjae.2013.65.1.4.
3 Knuesel O, Weber M, Suter A. Arnica montana gel in osteoarthritis of the knee: an open, multicenter clinical trial. Adv Ther. Sep-Oct 2002;19(5):209-218.
4 Jeffrey SL, Belcher HJ. Use of Arnica to relieve pain after carpal-tunnel release surgery. Altern Ther Health Med. 2002 Mar-Apr;8(2):66-8. PubMed PMID: 11892685.
5 http://www.curcuminoids.com/
6 Srivastava S, Saksena AK, Khattri S, Kumar S, Dagur RS. Curcuma longa extract reduces inflammatory and oxidative stress biomarkers in osteoarthritis of knee: a four-month, double-blind, randomized, placebo-controlled trial. Inflammopharmacology. 2016 Dec;24(6):377-388. Epub 2016 Oct 19. PubMed PMID: 27761693.
7 Singh S, Khajuria A, Taneja SC, Johri RK, Singh J, Qazi GN. Boswellic acids: A leukotriene inhibitor also effective through topical application in inflammatory disorders. Phytomedicine. 2008 Jun;15(6-7):400-7. doi: 10.1016/j.phymed.2007.11.019. Epub 2008 Jan 28. PubMed PMID: 18222672.
8 Boshtam M, Moshtaghian J, Naderi G, Asgary S, Nayeri H. Antioxidant effects of Citrus aurantifolia (Christm) juice and peel extract on LDL oxidation. Journal of Research in Medical Sciences : The Official Journal of Isfahan University of Medical Sciences. 2011;16(7):951-955.
9 Sun J. D-Limonene: safety and clinical applications. Altern Med Rev. 2007 Sep;12(3):259-64. Review. PubMed PMID: 18072821.
10 Chadwick M, Trewin H, Gawthrop F, Wagstaff C. Sesquiterpenoids Lactones: Benefits to Plants and People. International Journal of Molecular Sciences. 2013;14(6):12780-12805. doi:10.3390/ijms140612780.
WHAT OUR CUSTOMERS ARE SAYING...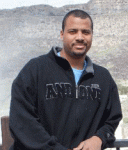 Stop Pain Before It Starts
We all know exercise is good for us, but ouch it can hurt. You could ache for days. So here's a trick to stop pain before it starts… dab a squirt of Rub On Relief on right after your workout… before the painful flare-ups. That way you'll "short-circuit" the pain at the source.
"I use Rub On Relief when I've had a longer than usual workout, or played basketball. I noticed immediate pain relief from workout soreness. It helps me continue being active like I want to be."


~Isaiah Fox, Florida
Disclaimer: Results not typical. Your specific results may vary.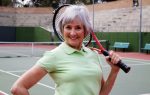 Soothe Joint Pain
"I have arthritic hips, legs, back and ankles. I have used a variety of mail order products. None of them worked. I tried Rub On Relief and very quickly the pain went away. I was amazed I found something that worked for me. I apply the cream twice a day—in the morning and right before bed—it lets me go through the day easily."
~Violet Skov, Arizona
Disclaimer: Results not typical. Your specific results may vary.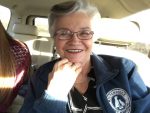 The pain is nearly all gone
"2 days ago I seriously sprained my big toe, I thought I broke it. It was very painful and terribly bruised, I rubbed the relief cream on it and got some relief, last night I rubbed more and slept well. This morning most all of the bruising is gone and the pain is nearly all gone. I wished I had taken a before pic and after to show. Thank you so much for this wonderful product"
~ Kathleen Crane 
St. George, UT
Disclaimer: Results not typical. Your specific results may vary.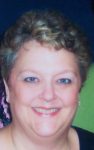 began using Rub on Relief instead...
"I have arthritis in my hands, fibromyalgia, and recently had rotator cuff surgery. I stopped using prescription Voltaren gel and began using Rub on Relief instead, I can't tell any difference in the relief and the price is much less. I bought the 9 tubes. I'm good for a while and the smell isn't as strong. Thanks! -Nancy Lail, Nebo NC"
Disclaimer: Results not typical. Your specific results may vary.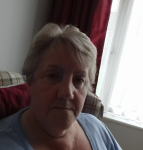 I've ditched the awful wheelchair
"Hello Jesse and all the amazing team! I would like to thank all off you for the help you have all given to me. I have been using Heal-n-Soothe, Super Joint Support and Rub On Relief for 12 weeks now. The joy and happiness they have given me is unreal. I have had osteroarthitis for over 15 years being unable to do a lot off thing i.e with my 2 sons and daughter. Also, 5 grand children. But now, I'm out and about Walking with the help of my stick. Yes, I've ditched the awful wheelchair and that's not all. I've even decorated the bathroom by myself ( apart from the bits I couldn't reach at only 5ft 2in). Also, I've stopped taken naperxain they didn't do me much good anyway. I will soon be 58 year old and about living and enjoying having 5 grandchildren. Thank to all of you!"
Disclaimer: Results not typical. Your specific results may vary.
FREQUENTLY ASKED QUESTIONS
*The statements made regarding this product have not been evaluated by the Food and Drug Administration. The efficacy of these products has not been confirmed by FDA-approved research. These products are not intended to diagnose, treat, cure or prevent any disease.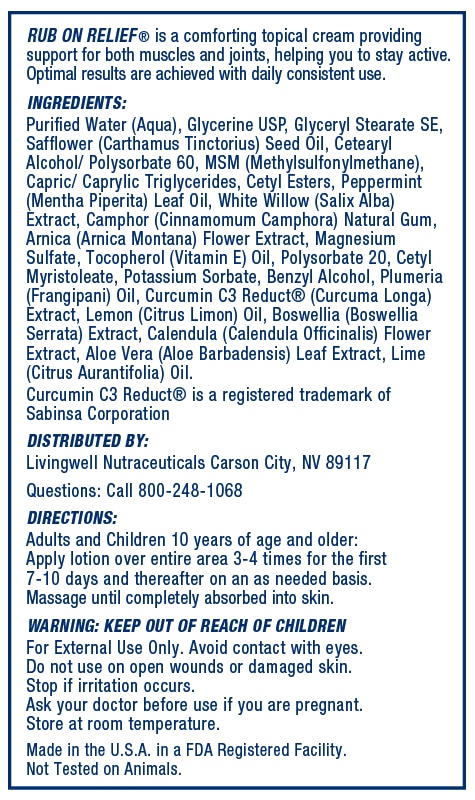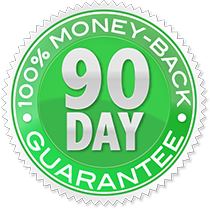 90-Day
100% No Risk
Money Back Guarantee
We guarantee you'll love Rub on Relief or we'll refund your money.
If you're not happy for any reason, simply return Rub on Relief within 90 days of your purchase date for a full refund, less shipping. No questions asked.
For Single Bottle Returns
Simply return your bottle, even if it's completely empty, and you'll receive your full purchase price, excluding shipping.
For Multi Bottle Returns
Return all your bottles and you'll receive a prorated amount based on the number of unopened bottles returned, excluding shipping.