No Excuse Workout DVDs

See Customer Comments
HOW CAN No Excuse Workout DVDs HELP?
NO Excuse Workout s So Easy You'll Stay With It.
The NO Excuse Workout includes 2 DVDs each packed with 10 short, intense workouts.
If you've always wanted a lean, sculpted and strong physique... but you don't have time to be a "gym rat" (and don't want to be one anyway!)... then I have the "can't miss" solution for you
I'm here to tell you about a breakthrough total body workout I've discovered that will build lean, buff muscles and leave you feeling great... in just four minutes a day!
If you can find 4 minutes to spare each day... You can have the body of your dreams!
You spend just 4 minutes a day to start (12 minutes a day when you're fully up to speed). NOT A MINUTE MORE. Everyone has four minutes!
You don't exercise long enough to get bored
You don't need special equipment
You don't need a gym
You don't need to pay for a personal trainer
You can work out in front of your TV in just six feet of space
You'll actually see your body change – drop fat, build muscle, start getting that lean sculpted look -- in the first week!
FREQUENTLY ASKED QUESTIONS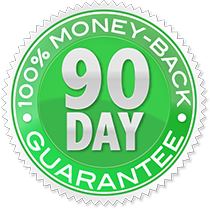 90-Day
100% No Risk
Money Back Guarantee
We truly want to help you live pain free. That's why we test every single product we offer and develop many of our own exclusive products you can't get anywhere else.
If you are unhappy for any reason, simply return your order within 90 days and get your money back, less shipping. Your returned product must be sent back in its original packaging and in like new condition with all parts and pieces.
Please Note: All returns are carefully inspected by the our returns department. If there are any signs of damage, foul odors, pet hair, dirt, and other debris, the return will not be accepted.