Complete Healing Formula ™ for Back Pain

See Customer Comments
HOW CAN Complete Healing Formula ™ for Back Pain HELP?
On this 2-CD audio program we reveal why other treatments fail and why you absolutely must address three little-known secrets for ANY treatment to work!
Plus we share with you our tested-and-proven formula for getting the fast and lasting relief you need.
Here are some of the things you'll discover:
How to predict if a back-pain treatment is GUARANTEED TO FAIL. You'll save yourself hundreds – if not thousands – of dollars once you understand how to spot this fatal flaw in any treatment plan.
Why costly Spinal Decompression treatments don't work and can make your back pain worse. Those big-buck procedures can rob you of your precious money, time, comfort AND your overall well-being.
The FIVE hidden causes of back pain and why your doctor or therapist does NOT know about them. Uncover these five missing links in back pain treatments and you will get better, guaranteed!
Why Yoga or Pilates may actually cause you more harm than good. Here's how to make sure any exercise you do heals instead of harms you.
Discover the difference between soft tissue pain and nerve pain. And why it matters when it comes to long-term pain relief and healing.
Why surgery rarely relieves and, instead, may even increase your pain. Must-have information for anyone considering back or hip surgery!
The absolute BEST plan of attack for lasting and effective pain relief. From calming the fire of a flare-up to preventing re-occurrence of an old pain, all the tools you need are here for long-term healing and comfort!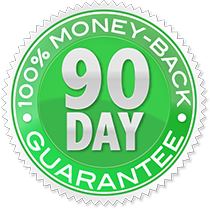 90-Day
100% No Risk
Money Back Guarantee
We truly want to help you live pain free. That's why we test every single product we offer and develop many of our own exclusive products you can't get anywhere else.
If you are unhappy for any reason, simply return your order within 90 days and get your money back, less shipping. Your returned product must be sent back in its original packaging and in like new condition with all parts and pieces.
Please Note: All returns are carefully inspected by the our returns department. If there are any signs of damage, foul odors, pet hair, dirt, and other debris, the return will not be accepted.