ElectroCleanse ™

See Customer Comments
HOW CAN ElectroCleanse ™ HELP?
The ElectroCleanse® is a bio-frequency generator that generates specific frequencies. Dr. Clark describes these frequencies and their uses in her book, "Cure for All Diseases," which was based on nearly 50 years of research.
Incredibly easy to use — Simply strap on the ElectroCleanse® just like you would put on a watch, anklet, bracelet or other piece of jewelry. It then goes to work as you watch TV, read a book, or just relax!
Safe and painless — unlike drugs and surgery.
Long-Lasting — It comes with a mounted rechargeable battery.
Natural relief without drugs or surgery.
Small, lightweight and can be used by people of all sizes.
Large color screen for easy viewing and operating.
NO Effort Required — No exercises. No drugs. No painful contraptions.
It's GUARANTEED To Work — Give it a test-drive for 90 days. If for ANY reason you decide it's not right for you at this time, simply ship it back and you'll receive a prompt full refund of the purchase price (minus shipping fees). That means you risk virtually nothing… yet you stand to gain a pain-free life!
2-Year Warranty — You're protected by the manufacturer's 2-year warranty on ANY piece of the ElectroCleanse®. If it breaks, they'll replace it!
FREQUENTLY ASKED QUESTIONS!
*These statements have not been evaluated by the Food and Drug Administration. This product is not intended to diagnose, treat, cure, or prevent any disease.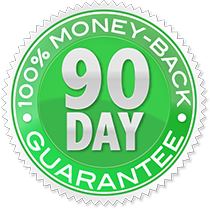 90-Day
100% No Risk
Money Back Guarantee
We truly want to help you live pain-free. That's why we test every single product we offer and develop many of our own exclusive products you can't get anywhere else.
If you are unhappy for any reason, simply return your order within 90 days and get your money back, less shipping. Your returned product must be sent back in its original packaging and in like-new condition with all parts and pieces.
Please Note: All returns are carefully inspected by our returns department. If there are any signs of damage, foul odors, pet hair, dirt, and other debris, the return will not be accepted.